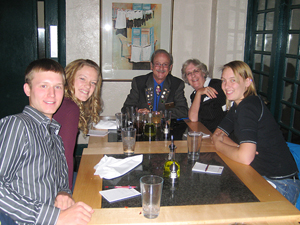 Nothing says family like a shared meal. In late October, ENF staff members attended a scholarship conference near Boulder, Colo. While there, we had the privilege of joining nine Elks scholars and six ENF supporters for a delicious dinner.
What started out as a gathering of strangers quickly turned into a true Elks family meal. During dinner, the Elks scholars, who came from four different Colorado universities, bonded with each other over college stories and future aspirations. They look forward to staying connected throughout the year, and coming together again in April for the Elks Scholar Month of Service.
Not only did the Elks scholars bond with each other, they were also able to connect with six local Elks members who are major supporters of the ENF. The Elks enjoyed seeing the good work of the ENF in action through these scholarship recipients, and the Elks scholars appreciated learning more about the Order and how they can get involved and continue to give back to their community.
Overall, the dinner was a huge success, and everyone left feeling truly connected to the Elks family.
After getting to know her Elks family, Liz Peterson, a 2010 MVS scholar from Tucson, Ariz., who attends the University of Colorado, Denver, said the following:
"Thanks to the Elks and the ENF, my life has changed. I will be able to obtain the education I need to help the people of this world as I've always desired. Furthermore, the Elks have created a community for me in which I can feel supported and encouraged to go out and live a life worth living. Thank you for everything."