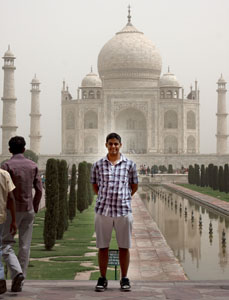 Ranjit Korah, 2006 MVS Scholar
Ranjit Korah, a 2006 Most Valuable Student scholarship recipient sponsored by Abingdon, Md., Lodge No. 2354, always knew he wanted to build. Ranjit is a senior at Carnegie Mellon University where his love of architecture is flourishing. He sees architecture as much more than bricks and mortar. To Ranjit, architecture is a way of life that impacts us all.
"I am more aware of people and how they interact, how they use the spaces they are in, and how the built form has shaped those interactions," Ranjit says. "Architects prescribe, decide and choreograph every movement of our lives through the design of buildings and planning of cities."
Ranjit recently took his love of architecture abroad when he was awarded a travel scholarship from the Carnegie Mellon School of Architecture which allowed him to travel throughout India and to study at the Danish Institute for Study Abroad.
Now back at Carnegie Mellon for his final year of architecture classes, Ranjit is grateful for the diverse experiences he had abroad, which fueled his love of structures. After this year, Ranjit hopes to use his talents to help others.
"My ultimate goal is to begin a design firm focused on affordable housing," he says.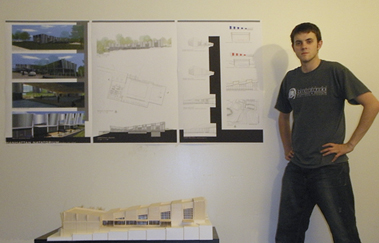 Josh Goldstein, 2008 MVS Scholar
Josh Goldstein, a junior at Kansas State University and a 2008 Most Valuable Student scholarship recipient sponsored by Littleton, Colo., Lodge No. 1650, also has his heart set on creating beautiful spaces for people. An early memory sparked his lifelong interest in architecture.
"I recall seeing an old shopping mall in the area I grew up getting torn down one day, and I was intrigued by the idea of a building getting demolished," Josh says. "A few years later, a family friend gave me a 3D architectural modeling program as a gift, and I taught myself how to use it."
Recently, Josh created a model for a natatorium in Manhattan, Kan. With the help of design software, Josh created a space that allows an indoor pool to feel like it is outdoors by letting in breezes and sunlight.
"This project integrated many eco-friendly design practices and was one of my most detailed and thoughtful designs to date," Josh says.
After graduation, Josh hopes to work at an architecture firm in Colorado, his home state.
Brianna Perez, 2007 MVS Scholar
Brianna Perez, a senior at Calvin College and a recipient of a 2007 Most Valuable Student scholarship sponsored by Walworth-Lakeland, Wis., Lodge No. 2201, is using her talents to build the world around her. She recently helped to build a glass sculpture that was chosen to be displayed permanently in a new student lounge.
"I loved that architecture is a field with so many different aspects," Brianna says. "I really wanted to explore the power that buildings can have in changing how people live their lives."
With graduation on the horizon, Brianna's goal is to get to work building and creating.
"I hope to find a job that will provide me with a lot of opportunities to learn about and explore environmental and economic sustainability, rural and international development, and urban planning," she says.
We know our future cities and towns will be beautiful spaces, thanks to these Elks scholars!
In 2010-11, the Elks National Foundation allocated $2.296 million to fund the Most Valuable Student Scholarships. For more information about the Most Valuable Student scholarship program, including eligibility and deadlines, please visit www.elks.org/enf/scholars.