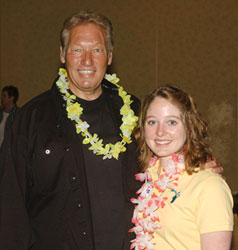 For Jim Vecchio of La Habra, Calif., Lodge No. 2095 and 2009 MVS scholarship recipient Clara Ritger, the Grand Lodge Convention in Orlando was an especially magical place. The two are paired through the ENF Named Scholarship Program, which matches a donor who pledges to give $4,000 to the Foundation with a student receiving a $4,000 ENF scholarship. Donors who participate in the Named Scholarship Program select a student based on their own preferences; Vecchio requested to be paired with a student from Notre Dame University and in the fall of 2009 began corresponding with Clara during her freshman year.
During her first year at Notre Dame, Clara was selected to serve on the Elks Scholar Advisory Board. The Scholar Advisory Board is a group of eight current and former Elks scholars who promote opportunities for students to get involved in their communities and connect to the Elks. As a member of the Board, Clara attended the Grand Lodge Convention and met Elks members from all over the country. But one member stood out above all others. Clara was thrilled to meet Jim Vecchio, the donor sponsoring her Most Valuable Student scholarship!
After spending time together at an ENF donor event, Clara reflects on getting to know her generous benefactor.
"I feel so proud to be sponsored by Mr. Vecchio because he showed a real appreciation of Notre Dame and a commitment to the ENF scholarship program. I think that we both felt lucky to have met one another, and it really strengthened our bond as friends.

I think the donors at the National Convention appreciated seeing some of the students they help support, and it was very valuable for me to see how philanthropic the Elks truly are and how dedicated they are to promoting a love of volunteerism and education in America's youth. Being involved in the Most Valuable Student scholarship program has significantly enhanced my relationship with the ENF. Since I have a personal connection with the person who is assisting me in attending college, I feel more appreciative of what I have been given."

Clara Ritger
James A. Vecchio Most Valuable Student Scholarship recipient
Notre Dame University
---
Back to top