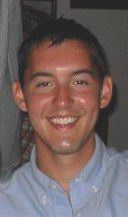 As a little boy in Charleston, W. Va., David Mullins stayed up late waiting for his dad to come home from Lodge meetings. While the meetings were always a secret to David, he did participate in Lodge dinners and youth activities, which inspired him to one day join the Order himself.
"The Elks has been a big part of my life and it was only a matter of time before I joined," says David.
Just as David always knew he wanted to become a member of the Elks, he also always knew what he wanted to do for a career–become a doctor.
David attends the West Virginia School of Osteopathic Medicine. Before he headed to medical school, David earned degrees in biology and psychology from West Virginia University with help from the Legacy Award he received in 2004.
During his time in college, David was initiated into Charleston, W. Va., Lodge No. 202, a place he has always called home. Now David contributes to creating a welcoming place for members and their families to gather, just as he once did as a child.
"I like that the Charleston Lodge provides a meaningful organization and friendly environment," David says. "I am proud to be a member."
Despite a busy summer preparing for medical school, David remains active with the Lodge by volunteering for the Vandallia Festival fundraiser and participating in the West Virginia State Elks Golf Tournament. All this hard work also provides an opportunity to have some fun and make friends.
"I have met some wonderful people through the Lodge and I have been given some great opportunities," David says. "The Elks have meant a great deal to me and my family."
While David has always known about the great work the Elks do, he hopes to spread the word to other young people and encourage them to join.
"I know that lately our Lodge has suffered from a lack of new young members," David says. "I to hope to inspire members to get involved and encourage new members to join the Elks," David says.
With David's hard work in medical school and at the Elks Lodge, we know he will be an inspiration for many!
In 2010-11, the Elks National Foundation allocated $1 million to fund scholarships for the children and grandchildren of Elks. If you know an Elk child who is a high school senior, encourage them to visit www.elks.org/enf/scholars for information, including eligibility and deadlines.