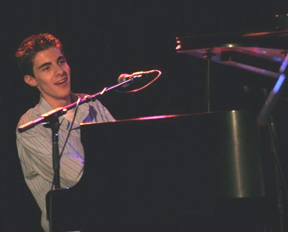 Just like Barry Manilow, Barry Harris is going far with his song-writing and piano-playing abilities. Someday, he hopes to write the songs that make the whole world sing.
Barry, a 2009 Most Valuable Student scholarship recipient sponsored by the Deptford, N.J., Lodge No. 2708, attends the Thornton School of Music at the University of Southern California where his dream is becoming a reality, all thanks to his Elks National Foundation scholarship.
"When I got accepted to USC, I couldn't celebrate. All I could worry about was how I was going to pay for my tuition," Barry says. "Then, when I learned I had won a $10,000 Most Valuable Student Scholarship, that's when it finally sunk in that things were going to work out for me. I can say without hyperbole that my story wouldn't be possible without the Elks National Foundation."
Having just completed his first year of college, Barry has had a multitude of experiences he never thought possible. He started an eight-person band named Barry Harris and The Euphoria and he's even opened for Barry Manilow!
This was a dream come true for Barry, who has a personal connection to Barry Manilow. Because his parents were such big fans, they named him after Manilow. But soon, the two shared more than a name; they shared a passion for music.
"I realized that I was enjoying the music not because I was a 'Fanilow,' but because I was enjoying the music itself," he says. "I left my first Barry Manilow concert with the epiphany that I wanted to play the piano just like him."
And that's exactly what Barry has set out to do. He is majoring in popular music, and he is starting to make a name for himself in the Los Angeles area, but it hasn't been easy.
"It's tough getting the first gig," Barry says. "The local coffee shop declined to have us play, so I took matters into my own hands. I rented out the coffee house and I put us in there."
Since that first performance, Barry says it's gotten a lot better. Thanks to Barry's determination to see his dream come true, Barry Harris and the Euphoria has picked up a regular audience and many more gigs. Click here to watch Barry play at the Grammy Museum in L.A.
"Things will happen, and there are people who try to get you down, but that's the price of a dream," Barry says. "I've never taken no for an answer. When somebody tells me 'no,' I just pretend I heard them say 'next' and I move on to the next opportunity."
With this kind of determination and talent, we know Barry Harris will go far. So remember his name because someday the whole world could be singing his songs!
In 2010-11, the Elks National Foundation allocated $2.296 million to fund the Most Valuable Student Scholarships. For more information about the Most Valuable Student scholarship program, including eligibility and deadlines, please visit www.elks.org/enf/scholars.