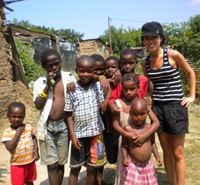 What started out as marathon training, turned into much more for Grace Lim, a 2005 Most Valuable Student recipient and graduate of Georgetown University. While spending three months in South Africa, Grace inadvertently created a running club for young children who needed someone to look up to.
Grace signed up to run a Peace Corps marathon in South Africa, so she began running at 5:00 p.m. each evening after spending her days volunteering and observing health initiatives in the Mpumalanga Province. The local children were fascinated by her daily run and soon decided to join.
"For me what started out as marathon training, which I mostly dreaded, became 5 p.m. running time," Grace says. "It was something we all looked forward to, me and the local children who did nothing but loiter around in the evenings."
While Grace was accustomed to running, the children were not. Grace had to explain what running for exercise was, because the children had never heard of the concept. They caught on quickly and enjoyed the opportunity to take part in a structured activity. The children benefited from the time with one another and with Grace, even if they did not have the proper clothing.
"Many were in tattered clothes and shoes," she says. "Some didn't even have shoes to wear. They ran barefoot along the road that was scattered with trash and broken glass."
The children's dedication and eagerness to participate amazed Grace. Previously shy and unfamiliar with one another, the children connected to each other through running.
"It still amazes me how they managed to run alongside me the entire time, without the proper shoes or training," Grace says. "I realized how the children had so much potential, but no one and nothing to help foster that potential. The Running Club exposed one aspect of their potential."
Now back in the United States, Grace is taking her South African experiences with her as she looks to the future. She will study Global Health Policy in graduate school at the Yale School of Public Health this fall. Her hope is to one day use policy to help people in developing countries realize their potential, like what she saw with the Running Club.
"It taught me how the little things can mean the most," Grace says. "Who knows what other abilities they had, but did not or could not realize."
In 2010-11, the Elks National Foundation allocated $2.296 million to fund the Most Valuable Student Scholarships. For more information about the Most Valuable Student scholarship program, including eligibility and deadlines, please visit www.elks.org/enf/scholars.