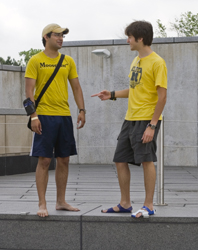 Can a pair of shoes save your soul? Maybe not, but they can save your soles. Jimmy Tomczak, a 2006 Most Valuable Student recipient, always loved being barefoot, but needed some sort of protection on his feet. Then an unlikely source became the answer to his problem–billboards. Jimmy created sandals out of recycled billboard material for surfers, bikers, and beach-goers who wanted that barely there feel on their feet.
"It turns out triple-layered fiber-reinforced billboard vinyl is thin enough to give you a barefoot feel, but thick enough to offer just the right amount of protection," he says. Rather than throw the billboards in a landfill, Jimmy uses them to create portable, thin sandals called Paper-Feet.
"They fit like a second skin and protect your feet even though you feel barefoot," he says.
The product launched on June 1, 2010, and Jimmy says the pre-order response on his website has been great. But even more than he enjoys seeing the sales, Jimmy likes reading about his customers. When ordering the shoes, customers can write in about their favorite adventure.
"The answers are so fun to read," Jimmy says. "People tell us about everything from VW road trips and mermaids to Costa Rica surfing and Peace Corps experiences. It's also rewarding to hear people make comments like, 'Paper-Feet seem tailor made for me.'"
Putting His Best Foot Forward
Jimmy has one more semester at the University of Michigan where he is getting his Bachelor's degree in Neuroscience. After graduation, he will continue marketing the sandals and hopes to take a Paper-Feet road trip to visit beach towns, learn about people's adventures, and promote Paper-Feet with the hope of securing retail partners.
This business venture is just the beginning for Jimmy. He completed an entrepreneurship program through the University of Michigan's Center for Entrepreneurship which sparked some ideas about the future.
"I plan to combine my diverse experiences and interests into a career that brings together the business and health professions for global social good," Jimmy says.
His dedication to global good already shines through in the work he does with Paper-Feet. From the beginning, he has been committed to ethical labor standards and sustainable decisions.
Visit www.paper-feet.com to see what Paper-Feet is all about, and to "save the world, and save your sole," as Jimmy says. With these sandals on his feet, we know Jimmy will go far!
In 2010-11, the Elks National Foundation allocated $2.296 million to fund the Most Valuable Student Scholarships. For more information about the Most Valuable Student scholarship program, including eligibility and deadlines, please visit www.elks.org/enf/scholars.