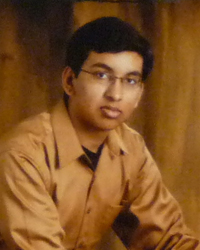 "Every accomplishment begins with the decision to try." Since childhood, 2010 top male Most Valuable Student scholar Bryan Dongre has adopted this statement as his life motto.
Bryan's parents inspire him to always try to do his best. Teaching by example, they instilled in him the values of motivation, commitment and perseverance. When Bryan first heard of the Elks National Foundation Most Valuable Student scholarship competition, he knew the application would be tough, but he was up for the challenge.
His hard work paid off. On April 1, he received the call he was waiting for. He had won the 2010 MVS top scholarship. Bryan and his family were ecstatic! Thanks to his scholarship, sponsored by Waukesha, Wisc., Lodge No. 400, his dream of attending Princeton University will become a reality.
A Worthwhile Investment
His parents' commitment to his success taught him the value of investing in others. Bryan dedicates himself to giving back through service. He uses his talents to mentor disabled youth, stock shelves at a local food pantry, help out at a homeless shelter for families, serve meals at a soup kitchen, and volunteer at rehabilitation centers.
Since he was in fourth grade, Bryan has played the viola. Through music, he discovered his biggest volunteer passion—improving the quality of life for the elderly. Throughout high school, Bryan regularly performed for the residents of elder-care centers.
"During the first few weeks, I passed numerous residents who were inside their rooms all day," explains Bryan. "Seeing their plight left me disheartened."
Bryan turned his dismay into action. His experience volunteering at elder-care facilities left him determined to find a way to improve the lives of the patients. He recognized this population greatly benefits from advanced health care technology, so Bryan decided to dedicate his education to medical research.
"My goal is to apply innovative biomedical trends while contributing to the development of devices that enrich life," explains Bryan. "I am specifically interested in researching minimally invasive techniques to improve post-surgery recovery times and the quality of life of all people, especially the elderly."
He's on the right track! At Princeton, Bryan plans to major in material engineering or computer science. He recognizes both fields are constantly evolving, and the prospect of innovation excites him most about his future major.
Technology to the Rescue
Technology has always played a role in Bryan's life. Much to his family's dismay, he insisted on having one of his first birthday parties at a car dealership. His fascination with automotive technology evolved into a website he started at 16, where he shares information on hybrid vehicles and offers his insight into new advances in environmentally friendly cars.
Bryan was also active in his high school's Students Modeling a Research Topic Team, in which he participated in a yearlong science project that required learning new technology and analyzing results.
Thanks to his strong technology background, Bryan is well prepared to major in engineering or computer science in college, which will help him to make future biomedical breakthroughs.
A Future of Innovation
Motivated by the success of his website, Bryan hopes to one day launch his own company. He plans to use his college degree to start a biomedical organization. His goal is to work with a team to develop new health care technology that will benefit millions of people.
"It is inspiring to know that the Elks National Foundation invested in me, and I am motivated to do my best to give back," says Bryan. "I am very grateful and excited to use the scholarship to pursue opportunities that will not only benefit me, but also will help others."
We are confident Bryan's dedication to community will move him to use the knowledge he gains in college to lead a life of service!