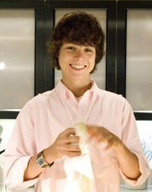 Grilled pizza, mayo-free Caesar salad, fish tacos with avocado salsa and carrot slaw. These are just a few of the healthy dishes Shawn DeMartino is cooking up. Shawn, a 2010 Most Valuable Student recipient, has made it his mission to educate teens on how to eat right and cook for themselves.
He was not always eating healthy, though. Shawn says he was "pudgy" as a child, which is what motivated him to start cooking for himself and eating right when he was in fifth grade.
"Having been an over-weight young child, I know first-hand how burdened life can seem when a few extra pounds keep you from doing the same activities as others your own age," he says.
When he wasn't able to run and play soccer with his friends, Shawn thought it was time for a change—he needed to start eating right. An avid Food Network fan, he decided to start cooking for himself.
"Having learned a few things from my years of watching the Food Network, I began to cook my own meals and afternoon snacks," he says. "Because the rest of my family never had trouble with their weight, more responsibility was placed on me to ensure that I followed a diet that would allow me to become a healthier individual."
And it paid off. Shawn lost the pounds and gained an appreciation for healthy foods. He even became the local spokesperson for the American Heart Association, helping to fight childhood obesity. Not to mention he got to be a guest on the Rachael Ray Show and sit face-to-face with his childhood hero. Click here for a clip of Sean on the show, and here for a video of Sean's story!
But even more rewarding than the publicity, Shawn was able to participate in his favorite activities again, like horseback riding, which he will continue to do throughout college. Shawn is attending Harvard in the fall and he hopes to play for the polo team.
"Cooking and eating healthy allowed me to become the uninhibited youth that I am today," Shawn says.
As he heads to college with the hope of becoming a doctor, Shawn will continue to educate others about healthy eating habits with the hope of changing lives.
In 2010-11, the Elks National Foundation allocated $2.296 million to fund the Most Valuable Student Scholarships. For more information about the Most Valuable Student scholarship program, including eligibility and deadlines, please visit www.elks.org/enf/scholars.