Elks Scholars across the country are gearing up to clean up their communities and participate in the 2010 Elks Scholar Week of Service from April 18-24, 2010. Here is what a few campus leaders are planning.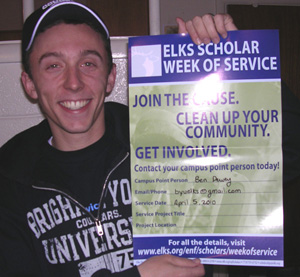 Ben Dewey, a junior at Brigham Young University and a 2005 Most Valuable Student Scholarship recipient, signed up to lead Elks scholars on his campus. A local food bank runs a small fruit orchard that needs pruning, so Elks scholars are putting their green thumbs to work and lending a hand.
"I wanted to plan a simple, meaningful project," says Ben. "I hope to bring Elks Scholars together and maybe develop some new friendships."
There are already 15 Elks scholars interested in joining the cause at Brigham Young University, and we know they will have a great time!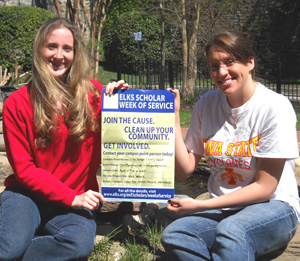 Emily Gaard and Erika Barger, both 2006 Legacy Award recipients, signed up to be campus co-leaders at Georgetown University. The two hit the ground running, and plans are under way for a great service project in the Washington, D.C. area.
The Georgetown Elks scholars are participating in the Wall Washers Project on April 17. The group will head out bright and early to wash the walls of the Korean War Veterans Memorial. They hope it will be a rewarding experience, and we know visitors and veterans will appreciate their hard work.
Like other leaders, Emily sees this as an opportunity to give back. "I am grateful to the Elks for granting me a scholarship which allowed me to attend the university of my choice, and would like to help give back," she says.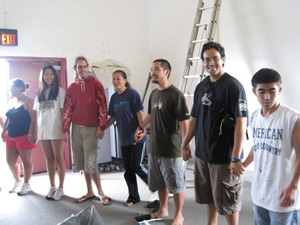 Brennan Takayama, 2002 Most Valuable Student Scholarship recipient and an Elks scholar alumnus, already works with students at the University of Hawaii at Manoa, so signing up to be a community leader was a no-brainer for him. He is gathering Elks scholars in his community and they are hoping to work on a traditional native Hawaiian taro patch, a staple food in Hawaii.
But for Brennan, cleaning up his community is more than a one-time event. "I hope to mobilize more young people to 'malama aina,' or care for the land so that our descendants will be able to enjoy what we have now," he says.
With leaders like Brennan, Emily, Erika and Ben, we know the 2010 Elks Scholar Week of Service will be a success!
If you are interested in participating in the 2010 Elks Scholar Week of Service, please visit www.elks.org/enf/scholars/weekofservice, and check back often for new videos and information. The Elks National Foundation provides more than $3.6 million in college scholarships each year. For more information about our scholarship programs, including eligibility and deadlines, please visit www.elks.org/enf/scholars.