A Change of Home, Not a Change of Heart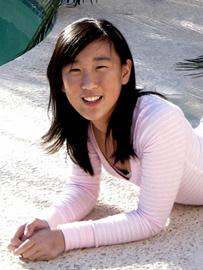 Vicki Peng went from the desert to the windy city, but she isn't letting a little cold get in the way of helping others. Vicki, a 2009 Most Valuable Student recipient, moved across the country from Chandler, Ariz., to Chicago, Ill. As a freshman at the University of Chicago, she is thriving in her new environment and taking advantage of all the opportunities offered.
At the University of Chicago Vicki is majoring in Political Science and Environmental Studies. Vicki is no stranger to politics. Her experiences in high school helped shape her interest in political science.
During high school, Vicki served on the Arizona Governor's Youth Commission, where she focused on underage drinking prevention and homeless youth. She diligently researched this problem and created policy recommendations for the Governor's Office.
"When a 12-year-old runs away from home, obviously they don't have a Social Security card or a driver's license," she says. "There are a lot of programs out there for homeless youth, but they need identification to utilize them."
Now in college, Vicki is on the University of Chicago planning team for a four-day conference for high school students called the Model United Nations Conference. About 1,000 students will come to Chicago in early February to simulate the United Nations, and Vicki is helping to make it happen.
Vicki has even found time to work at the Elks National Foundation. Earlier this year, she started as an intern at the ENF. She is currently working on a marketing plan for the Elks Drug Awareness Program, the largest volunteer drug awareness program in the United States.
"I had experience working with youth services, so this was a good combination of my skills and overall a perfect opportunity," says Vicki.
Although she is just starting her college journey, Vicki remains busy helping others. Ultimately, Vicki would like to work as a consultant for the non-profit sector or maybe attend law school one day.
"As an Elks scholar, I am not only representative of myself, but also an entire community of dedicated individuals," said Vicki. "Being an Elks scholar means being a productive member of society, and in the end, a better human being."
Through her actions, Vicki truly embodies an Elks scholar who is dedicated to her community, wherever that community may be.
In 2009-10, the Elks National Foundation allocated $2.296 million to fund the Most Valuable Student Scholarships. For more information about the Most Valuable Student scholarship program, including eligibility and deadlines, please visit www.elks.org/enf/scholars.
---
Back to top