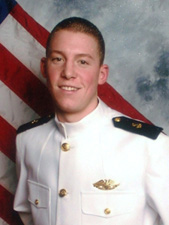 0600—Reveille. 0700—Look out for stowaways. 0900—Dodge a pirate attack. Just another day in the life of 2008 Legacy Award winner Frank Vita.
Frank, sponsored by his grandfather Bill Vita of Annapolis, Md., Lodge No. 622, is a sophomore engineering major at the United States Merchant Marine Academy. One of his graduation requirements is to spend 300 hours working on a U.S. flag-bearing merchant ship. Thanks to his ENF Legacy Award, he can focus on his work at sea and not worry about the costs associated with college.
Welcome Aboard
Frank's first assignment was to work on board the Liberty Star, a bulk carrier that hauls grain. He sailed from the Gulf Coast of Texas across the Atlantic Ocean through the Mediterranean Sea and into the port of Djibouti in Eastern Africa. Frank's duties were to ensure the ship's engines and machinery ran smoothly.
"The experiences I had are unforgettable," says Frank. "The days were long and hot and the work was hard, but I enjoyed being on board, and my work experience was invaluable."
Along the way, Frank learned much more than how to repair broken machinery on an aging ship. He trained to respond to a pirate attack, and even saw lookout towers that pirates use to spot targets. He also learned to deal with stowaways, and found four hiding on the Liberty Star.
Back to the Mainland
After a successful assignment, Frank returned to the United States Merchant Marine Academy. He is just as busy on land as he was at sea. At school, he can be found focusing on his classes and regimental requirements, swimming with the varsity team, and teaching swim lessons to local children.
After graduation, Frank will be an officer of the Merchant Marines and plans to work as a licensed engineer on a commercial ship. Thanks to his ENF scholarship, his dreams are becoming a reality.
"I'm very proud to be an Elks scholar," says Frank, "and I am grateful to the Elks National Foundation for my Legacy Award."
Whether the sea rolls high or low, with Frank on board, given the goods, his ships will deliver.
In 2009-10, the Elks National Foundation allocated $1 million to fund scholarships for the children and grandchildren of Elks. If you know an Elk child or grandchild who is in high school, encourage them to visit www.elks.org/enf/scholars for information, including eligibility and deadlines.