With 2010 under way, Elks scholar speakers are showing gratitude for their scholarships by visiting Lodges to share their college stories. Make it your New Year's resolution to speak at the Lodge near you.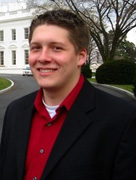 Jake Wellman, president of the Elks Scholar Advisory Board and a 2008 Most Valuable Student scholar, recently spoke at Rio Rancho, N.M., Lodge No. 2500 about his sophomore year at the University of New Mexico. Lodge Scholarship Chair Linda Rogers, said the speech was well received by Lodge members.
"Jake is a very accomplished young man, and we were glad to have him speak at our Lodge," she explains.
On campus, Jake, a political science major, serves as Chief of Staff for his student government and is also an Eagle Scout.
"Even as a sophomore, I can definitely say I have learned so much more in college than what my professors lecture about," says Jake. "This experience was made possible by the generosity of the Elks."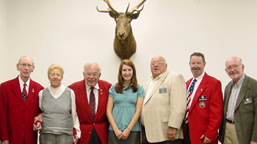 Anne Talley, a 2006 Most Valuable Student scholar and senior at the Georgia Institute of Technology, visited Atlanta-Northlake, Ga., Lodge No. 78 to share her college experiences as an Elks scholar.
"We were impressed and delighted with Anne's visit," states Lodge Scholarship Chair Charles Gardner. "All the Elks at the event enjoyed meeting Anne."
Originally from Richmond, Va., Anne has enjoyed her time at an out-of-state school. Thanks to her scholarship, she was able to study abroad in France and London. As a chemical engineering major, she serves as the vice president of Alpha Chi Sigma, Georgia Tech's professional chemistry fraternity, and spends hours on her undergraduate research. After she graduates, she plans to continue her education in graduate school.
"I hope the Elks know how much my MVS scholarship has helped me," says Anne. "Thanks to my scholarship, I have been able to spend time doing what I like to do, gaining leadership experience and meeting people with similar interests as myself."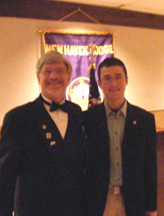 New Haven, Conn., Lodge No. 25 recently hosted Elks Scholar Speaker Matt Williams, a 2009 MVS scholar from Massillon, Ohio.
"Confident and articulate, Matt's speech was interrupted several times by applause from the assembled Elks," says Lodge Scholarship Chair Jerome Pacelli. "Hosting Matt as a scholar speaker was a truly splendid experience for all."
Matt, a freshman economics major at Yale University, spoke about adjusting to campus life, his involvement with campus politics, and his goal to become fluent in Chinese, so he can one day teach ESL through one of Yale's cultural organizations.
"I cannot thank the Elks enough for their support of these scholarships," exclaims Matt. "It is a true honor to have been chosen as a MVS scholar, and I hope to show my thanks by giving back to the community and striving to become the best that I can be."
If you are interested in becoming an Elks Scholar Speaker, or would like your Lodge to host a Scholar Speaker, visit www.elks.org/enf/scholars/speaker.cfm for all the details.