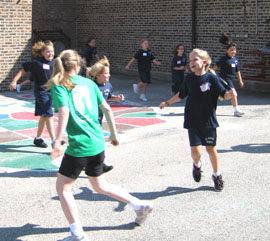 First order of business, help fourth-grade girls score soccer goals, teach eighth-graders the dangers of smoking, and lead sixth-graders in yoga techniques -- not your typical Board meeting.
The members of the ENF Scholar Advisory Board met in Chicago for their first annual Board meeting over the weekend of September 11, 2009. To kick off the meeting, the Scholar Advisory Board and ENF staff participated in the September 11 National Day of Service by partnering with Girls in the Game, a local non-profit dedicated to promoting sports opportunities, health education, and leadership development to enhance the overall well-being of all girls. Thanks to Girls in the Game, Scholar Advisory Board members were able to promote fitness and leadership to girls during a Game Day at a Chicago grammar school.
Joined by the Elks Drug Awareness Program trailer and Elroy the Elk, the ENF Scholar Advisory Board enjoyed working with girls throughout the Game Day. Former Emergency Educational Grant recipient Alison McQuade, 2006 Legacy Award scholar Erika Barger, 2008 MVS scholar Jake Wellman and 2007 MVS recipients Prateek Kumar and Jen Swartz participated in this day of service. They got the ball rolling by coaching the girls in soccer, cooled down with yoga and wrapped up by talking to the girls about the health risks of smoking.
The opportunity to work with Girls in the Game at a local school was a great start to a productive weekend," explains Jake Wellman, President of the ENF Scholar Advisory Board. "Teaching teamwork, healthy living, and fun sports to middle-school girls was a very rewarding way to contribute to the education of the next generation."
With a board of scholars dedicated to both academics and service, we can't wait to see what future opportunities arise for ENF scholars!
To enhance scholar relations and communication, the ENF Scholar Advisory Board was founded in 2009. For more information about the Scholar Advisory Board, please visit www.elks.org/enf/scholars.