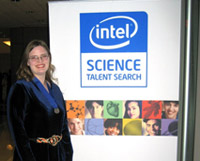 Kelydra Welcker has been passionate about science since the day she was born. Named after the snapping turtle, Chelydra serpentine, Kelydra could pronounce the scientific names of organisms before she learned to write her own name.
This 2007 Most Valuable Student from Parkersburg, W.Va., was destined for scientific greatness. As a senior in high school during the Intel International Science and Engineering Fair, Kelydra was asked to be one of three students starring in "Whiz Kids," a documentary highlighting the continued importance of science and mathematical education.
The documentary features Kelydra's research on a contaminant that is still being dumped in the Ohio River by a local company, the area's largest employer and the source of her father's pension. This research sparked community tension, and Kelydra was torn between protecting the environment, her family and her community.
Kelydra continued filming her documentary as her college career began. Thanks to her ENF scholarship, Kelydra attends West Virginian Wesleyan College, where she is majoring in chemistry.
"The Elks National Foundation allows me to attend my dream school," Kelydra exclaims. "I'm eternally grateful for that chance of a lifetime!"
After two years of filming, "Whiz Kids" premiered in June 2009. For all the details, visit www.whizkidsmovie.com.
Despite her film commitments, Kelydra, now a junior, is actively involved on campus. She continues to pursue her scientific passions as a member of the Chemistry Club and the Environmental Club, and serves her student body as a Resident Assistant.
After graduation, Kelydra hopes to use her chemistry degree either to attend medical school and become a doctor or to earn her graduate degree and become a doctor for the environment.
"By understanding chemistry, we can figure out ways to fix everything, from the environment to the human body," Kelydra explains.
We can't wait to hear about this whiz kid's future discoveries!
In 2009-10, the Elks National Foundation allocated $2.296 million to fund the Most Valuable Student Scholarships. For more information about the Most Valuable Student scholarship program, including eligibility and deadlines, please visit www.elks.org/enf/scholars.