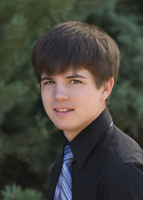 John Steinbach • Forest Grove, Ore.
2009 Most Valuable Student Top Male Winner
$60,000 Over Four Years
John Steinbach dedicates each day to bettering his community. From mentoring students to serving meals at the local homeless shelter, he is always using his many talents to help others.
Through positive example, John's parents instilled in him the drive to serve his community.
"My mother is a nurse, so her career revolves around service," John explains. "I've always been around people who volunteer, and who encourage me to get involved. I wanted to emulate those like my parents, who I greatly respect."
Leading by Example
John took the idea of helping others to heart. Of his many high school extracurricular activities ranging from basketball to show choir, those most important to him were the activities that allowed him to serve others.
Every other day, John volunteers by tutoring students who struggle with math, helping them to succeed in algebra, geometry and pre-calculus.
"It's truly a thrill when I see students overcome the difficulties they're having with math after I've worked with them," says John. "I feel I have a duty to give back to my community in this way."
By participating in his high school's Mock Trial program and student mentoring programs, John is able to pursue his greatest passion—helping to protect his community from the harmful effects of drug abuse, gang violence and other crime. John sets a positive example by mentoring local elementary school students and high school freshmen, encouraging them to get involved in ways that help improve their communities and warning them of the dangers of drug use and abuse. His involvement in the Mock Trial team enabled him to bring legal speakers to talk about the effects of steroid abuse.
Stanford Bound!
John's drive to help others directed his college choice and future career.
John's fascination with American and Ancient Greco-Roman history inspired him to pursue a history degree. After visiting several colleges, he set his sights on Stanford University, which is noted for its strong history program. When he found out that he is the 2009 top male Most Valuable Student Scholarship winner, he was ecstatic. His dream of attending Stanford is now a reality.
"This is a tremendous honor," John exclaims. "The knowledge that I can pay for my tuition is exhilarating. My family and I were bouncing off the walls when we found out!"
John is looking forward to heading to Stanford for intellectual exploration and campus life. He can't wait to study new topics in depth and live on campus among a diverse community of scholars.
John's history major will prepare him for law school and his future career. His work in the County District Attorney's office and role as Chief Justice at Boys State, an American Legion program, solidified John's goal of entering the legal field.
"I've always had a real appreciation for our nation's legal system and its ability to change lives for the better," John explains. "I want to bring justice to other people's lives."
After graduation, John plans to serve his community as a district attorney, and perhaps one day become a judge.
For now, John is taking a break from all of his hard work to enjoy the summer by camping, catching up with friends and preparing for Stanford, where he will have even more opportunities to help his new community.