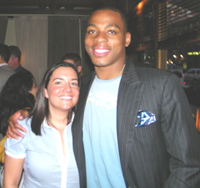 Christina Vuocolo has always believed in the impossible. In 2001, she received an Elks National Foundation Most Valuable Student scholarship, making her dream to attend Villanova a reality. After graduation, she partnered with college friend and NBA athlete Randy Foye to launch the Randy Foye Foundation, an organization dedicated to inspiring youth in Newark, N.J. to follow their ambitions.
Vuocolo lives the motto of the Randy Foye Foundation: "Believe in the Impossible." Her commitment to helping others achieve their dreams, passion for social responsibility, and desire to give back are just some of the qualities that led her to become the 2009-10 ENF Alumnus of the Year.
Family Ties
Vuocolo's mother, who was unable to afford college when she was growing up, didn't want her children to miss out on the same opportunity. She encouraged Vuocolo to apply for as many college scholarships as possible to help offset the costs that her parents would put toward her education. The Most Valuable Student scholarship seemed a natural fit. Vuocolo's uncle, Conrad Vuocolo, Jr., was a longtime member of her sponsoring Lodge, Point Pleasant, N.J., Lodge No. 1698, until his death in 2007. The previous year, her sister Maria had received an ENF Most Valuable Student scholarship, enabling her to attend the University of Notre Dame.
Vuocolo applied for the same award, hoping to follow in her sister's footsteps and make her uncle proud. She was elated when she found out she would receive a 2001 Most Valuable Student scholarship.
"Simply put, my MVS scholarship made my college experience possible," Vuocolo explains. "The generosity of the Elks for the four years I attended Villanova spoke volumes about the organization and their willingness to give back to the community by investing in the future. I'm proud of being able to represent the Elks in everything I do."
Thanks to her MVS scholarship, Vuocolo was able to move from Point Pleasant Beach, N.J., to Villanova, Pa., to earn a degree in Business Administration with a focus on marketing and communications.
A Foundation Begins
Vuocolo always enjoyed basketball, so she decided to volunteer as student manager of the Villanova men's basketball team. She got more involved throughout college, tabulating statistics, greeting recruits and VIP guests at games, assisting with ticket distribution, and coordinating team functions.
Through working with the team, Vuocolo became friends with Randy Foye, a four-year starter. In 2006, Foye was the seventh pick in the NBA Draft, and he just completed his third season with the Minnesota Timberwolves. Upon being drafted, Foye asked Vuocolo to help him launch a charitable foundation when the time was right, and Vuocolo immediately agreed.
Foye, who lost both his parents in separate tragic incidents before the age of 6, grew up in a tough urban environment in Newark, N.J. Despite many obstacles, he chose to stay focused, did well in school, and earned a scholarship to Villanova. Foye wanted to start a foundation to encourage children from his hometown to stay focused so they too can achieve their dreams.
At the age of 24, Foye and Vuocolo launched the Randy Foye Foundation.
"Foye hopes to be an example for the youth in Newark," says Vuocolo. "He knows the difference a positive role model and nurturing environment can make."
As the foundation's Vice President, Vuocolo is proud to have helped build such a powerful foundation from scratch. Her favorite part of the job is mentoring at risk seventh and eighth grade students through the Assist 4 Life program. She meets with this group of seven students weekly, giving them a chance to talk about their lives, receive academic help, and do exercises that help with character development, educational and social growth.
Giving Back
Vuocolo's efforts are paying off. She is able to see firsthand the students she mentors gain a sense of family through the Randy Foye Foundation's Assist 4 Life Program. As the ENF Alumnus of the Year, she is proud to be able to thank the ENF for helping her through college by her own service to her community.
"The Elks inspire many people to not only believe in something that they are a part of, but to turn around and put that generosity in the lives of others," Vuocolo explains. "I hoped that since the Elks National Foundation was willing to invest in my education, someday I could make the ENF proud of my career path. That's what makes winning the ENF Alumnus of the Year award so rewarding."
As the Alumnus of the Year, Vuocolo will be formally recognized for her commitment to service at the ENF Salute to Excellence during the Elks National Convention in Portland, Ore. At the reception, the ENF will award her with a $500 donation to the Randy Foye Foundation to help it continue its outstanding work.
We can't wait to hear what other obstacles Vuocolo will help others overcome!