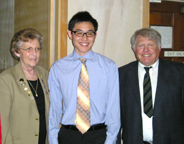 The Elks National Foundation helped Stanford Tran realize his dream of attending Stanford University. The 2005 Most Valuable Student runner-up recently returned to his sponsoring Lodge, Santa Clara Lodge No. 2347, to express his gratitude.
Originally from Santa Clara, Calif., Stan, now a senior, joined the ENF Scholar Speaker Program to share how his ENF scholarship enabled him to succeed in college.
"Thanks to my ENF scholarship, I didn't have to work during the summers to pay for school," Stan explains. "Because my summers were free, I was able to pursue my interest in biology outside of the classroom."
The summer after his freshman year, Stan, a Biology major, traveled to a tropical dry forest in Mexico to study a particular type of thorny shrub. More recently, Stan was able to share his love of astronomy through Splash, a program where Stanford students volunteer to teach classes to middle and high school students. He taught a class on the night sky, engaging his students by having them measure the distance from planets to the sun on a giant model solar system.
In addition to his scientific work, Stan is a Resident Advisor to fellow students. He enjoys learning from his classmates, who are all passionate about their own areas of study. Stan plans to spend the summer after he graduates as a Senior Residential Assistant or Head Counselor for a high school summer camp. Eventually, he hopes to attend medical school.
"His speech was well received, and the members were extremely impressed with Stan," says Stuart Sampson, the Santa Clara Lodge Scholarship Chair. "We were thrilled to have Stan return to the Lodge."
We can't wait to see what future discoveries Stan will make!
If you are interested in becoming an ENF Scholar Speaker, or would like your Lodge to host a Scholar Speaker, email Programs Relationship Associate Kristen Scaletta at KristenS@elks.org.