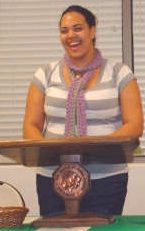 Vanessa Seals has had many career goals. The 2006 Most Valuable Student from Price, Utah, has wanted to become a lawyer, anchor the evening news, and save lives as a doctor. Although her ambitions have changed, Vanessa was always sure of one thing—she would obtain her college degree.
Thanks to her Most Valuable Student Scholarship, Vanessa, now a junior at the University of Utah, is well on her way to completing this goal. She recently shared her experiences as an ENF Scholar with the Provo Elks Lodge, No. 849, through the ENF Scholar Speaker Program.
"I would've never been able to make it this far without the support of the Elks National Foundation," Vanessa told Lodge members. "The support the ENF offers students changes lives. I'm grateful to have been one of those students."
Inspired by her literature courses, Vanessa decided to major in English and eventually plans to pursue a doctoral degree. Outside of classes, she is spending her time at the University of Utah making lasting friendships and volunteering in her community. The importance of her own college degree led Vanessa to join the Honors Student Activity Committee, a service organization dedicated to encouraging youth to make college a priority.
"What an honor it was to meet someone as talented, poised and enthusiastic as Vanessa," says Provo Lodge Scholarship Chair Linda Gaines. "It was such a reward for us to see all that the Most Valuable Student Scholarship program provides."
If you are interested in becoming an ENF Scholar Speaker, or would like your Lodge to host a Scholar Speaker, email Programs Relationship Associate Kristen Scaletta at KristenS@elks.org.