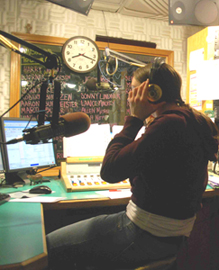 Every weekday morning, the people of western Alaska wake up to the voice of 2004 Most Valuable Student Danielle Sylvester.
As the morning show DJ for KNOM radio, an educationally oriented public service radio station in Nome, AK, Danielle brings the day's news and inspirational spots to uplift, inform and motivate listeners in the station's 100,000 square mile signal area.
Originally from Akron, NY, in 2008, Danielle graduated magna cum laude from Nazareth College in Rochester, NY. Her double major in communications and philosophy, sense of adventure and dedication to community service led her to accept a full time volunteer position at KNOM radio. In addition to serving as the morning show DJ, Danielle, as the Inspirational Director, writes, voices and produces inspirational spots for listeners in a region known for abuse and poverty.
After leaving KNOM for the day, you can find Danielle on call as an Emergency Responder for the Nome Volunteer Ambulance Department. She also coaches youth soccer and assists with ski lessons each week. When not volunteering, Danielle enjoys heading out to the tundra to ski or hike.
Danielle's ENF scholarship helped fuel her love of new experiences.
"Thanks to the ENF, I was able to travel abroad to Lancaster, England," Danielle explains. "The memories from this program are invaluable to me."
Stay tuned for news of Danielle's next adventure!
In 2008-09, the Elks National Foundation allocated $2.296 million to fund the Most Valuable Student Scholarships. For more information about the Most Valuable Student scholarship program, including eligibility and deadlines, please visit www.elks.org/enf/scholars.