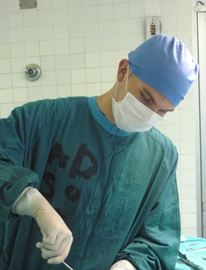 After ten weeks, the intensity of rushing around the surgical emergency room, scrubbing in on different operations and caring for patients with a variety of injuries became routine. Even faced with limited medical supplies and a lack of modern technology, Kyle Dempsey was not daunted. As this 2007 Legacy Award winner says, "Nicaraguan doctors are truly masters of improvisation."
Growing up in East Millinocket, Maine, Kyle never expected to spend the summer after his freshman year of college gaining hands-on medical experience by volunteering at a hospital in Nicaragua.
Kyle always enjoyed volunteering at his local Lodge, so his father and grandfather, both long-time Elks, encouraged him to apply for the ENF Legacy Award. Thanks in part to his ENF scholarship, Kyle was able to attend Bowdoin College in Brunswick, Maine, through which he traveled abroad to perform international grass-roots volunteer work.
Kyle, a sophomore biochemistry major, significantly benefited from his time in Nicaragua. "This experience was the most personally rewarding of my life," he says, "and it really solidified my aspirations to become a physician."
Struck by the great need for equipment in the hospital where he volunteered, he decided to take action. Upon returning to Maine, Kyle and a friend teamed up with several international medical aid relief organizations to fundraise to ship medical equipment such as x-ray machines to that hospital.
"I feel such a strong connection to the people with whom I worked and the people that I served," Kyle explains. "My hope is to bring modern tools and procedures to Nicaragua to offer treatments to patients whose conditions are not currently curable with the available technologies."
After graduation, Kyle plans to go to medical school. His ultimate goal is to open his own practice for low-income people, and continue his work abroad in different communities in need.
We can't wait to check-up on Kyle during medical school!
In 2008-09, the Elks National Foundation allocated $1 million to fund scholarships for the children and grandchildren of Elks. If you know an Elk child who is a high school senior, encourage them to visit www.elks.org/enf/scholars for information, including eligibility and deadlines.