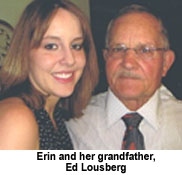 Erin Seivley, a 2008 Legacy Award recipient from Westminster, Colo., is always looking for ways to help others. Her dedication to volunteering stems from encouragement from her grandparents, Ed and Joy Lousberg.
Erin's grandparents have always been involved in community service. When she asked what she could do to help others, her grandfather, an Elk for almost 50 years, suggested that Erin volunteer at his Lodge in Westminster. He wanted to share his love of the Elks and their service with his granddaughter.
"The Elks allow me to take part in projects that help children in need," Lousberg explains, "projects that build community."
Erin took her grandfather's advice, and the Elks quickly became an important part of her life. She regularly volunteered at Lodge dinners and helped her grandfather on Bingo nights. Erin's most memorable experience at the Lodge was participating in the Elks luau. She had a blast preparing and serving food with her friends from school, while enjoying music, dancing and good company.
Her close relationship with the Elks proved to be an important part of her college career. Encouraged by her family, Erin applied for an ENF Legacy Award. Thanks to her scholarship, she is now well into her freshman year as an architecture major at Arizona State University, and enjoys all the opportunities that college offers.
"Without the generous support of the Elks National Foundation, I would not be able to attend Arizona State University and pursue my dream of becoming an architect," she explains. "The ENF and the Elks have provided me with more than financial support, however. They have given me the opportunity to help those in my community."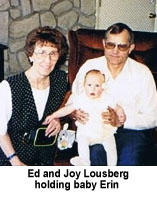 On campus, Erin continues to be passionate about volunteering. Once again following her grandfather's suggestion, Erin joined the ASU Habitat for Humanity team, a service organization that builds homes for families in need. While not in class or volunteering, Erin can be found cheering for the Sun Devils from the stands of football or basketball games.
Thanks to her ENF scholarship, Erin is confident she will one day fulfill her ambition of working in an architecture firm, and maybe even start her own company.
She explains, "Being an ENF Legacy Award scholar is an honor I cherish, because I represent the Elks community in Colorado that has helped me in so many ways."
In 2008-09, the Elks National Foundation allocated $1 million to fund scholarships for the children and grandchildren of Elks. If you know an Elk child who is a high school senior, encourage them to visit www.elks.org/enf/scholars.