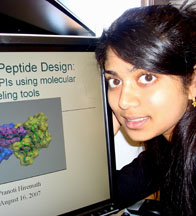 Prano Hiremath, a sophomore at the University of Washington, feels fortunate to be able to pursue a Bioengineering degree, a field that combines her two passions—math and life.
"I am lucky to be studying a subject with such vast potential," says Prano. "Education is a luxury for many people."
Sponsored by Seattle Elks Lodge No. 92, Prano earned a Most Valuable Student Scholarship in 2007, enabling her to further her education.
Her commitment to giving back to the Elks community led her to become an ENF Scholar Speaker. On January 16, 2009, Prano spoke to attendees of the Washington State Elks Winter Convention about life as a Most Valuable Student scholar.
"The Elks National Foundation and the Washington State Elks Association have made education attainable to me and many other students like me," she explains. "Instead of working, I can spend time doing research, volunteering and taking full advantage of college opportunities."
True to her word, Prano seizes every opportunity that comes her way. In addition to her rigorous course schedule, she volunteers weekly at Seattle's Children's hospital, working with children who are battling a variety of diseases. She also works in the Giachelli Bioengineering lab, researching solutions to disease. As a mentor in the NASA Space Grant Consortium, she is able to share her findings with others, encouraging them to work to make life saving discoveries through research. In her remaining time, Prano designs greeting cards for non-profit organizations, using her art to support their work while making a difference in her community.
After graduation, Prano plans to pursue a career in medical research or clinical medicine, using her many talents to make a difference in the world.
"The Washington State Elks are pleased and proud to have sponsored Prano, and Convention attendees were delighted with her presentation," says Linda Averill, the Washington State Elks Scholarship Chair. "She is a delightful young woman who is focused on her goal but makes time for service to her community."
If you are interested in becoming an ENF Scholar Speaker, or would like your Lodge to host a Scholar Speaker, email Programs Relationship Associate Kristen Scaletta at KristenS@elks.org.