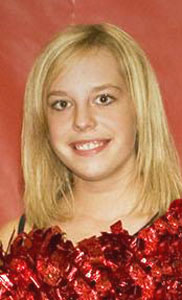 EEG recipient Kari Renzelman's childhood memories are full of stories about the Elks. A native of Pontiac, Ill., Kari spent much of her time at the Pontiac Lodge, where her father was a member. In fact, she practically grew up on the Pontiac Elks golf course.
"The Elks have given me many good memories," she recalls. "I can remember hunting for Easter eggs and sitting on Santa's lap at the Christmas parties. I especially liked going to the Lodge on the Fourth of July to watch the fireworks."
Kari's fond memories of the Pontiac Lodge extend past swimming, golfing and holiday celebrations. Her father always made sure she was aware of the Elks' mission.
"Even though time with the Elks was fun for me," she explains, "my dad would always remind me that the Elks do more than provide fun activities—they help raise money for our community and for scholarships."
Little did she know that she would one day benefit from an Elks National Foundation scholarship. Sadly, her father passed away shortly after Kari began her freshman year of college at the Milwaukee School of Engineering. The Pontiac Lodge encouraged her to apply for an ENF Emergency Educational Grant to defray her college expenses. Thanks to this scholarship, she is able to continue her education and has time to participate in school activities.
Now well into her freshman year, Kari, an Architectural Engineering and Construction Management major, is making the most of college life. She has joined the dance team, participates in a mentor group, and takes notes for students with disabilities. She loves all the opportunities her school offers, and values the lasting friendships she makes every day. After graduation, her dream is to stay in the Midwest and work on building skyscrapers or homes with an engineering group.
"After losing my dad, I made a vow that I would continue to do my best to be as successful in school as he was," says Kari, "and to continue to help other people in our community as he did by volunteering to make my community a better place for everyone."
In 2008-09, the Elks National Foundation allocated $350,000 to fund the Emergency Educational Grant program for children of deceased or totally disabled Elks. If you know an Elk child who may be eligible to receive an Emergency Educational Grant, encourage them to visit www.elks.org/enf/scholars.