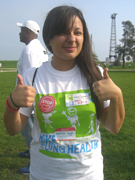 Since her 58-year-old father's death on Father's Day 2007, 2006 Most Valuable Student Amanda Nigro has worked tirelessly to raise awareness of chronic pulmonary sarcoidosis.
Having dealt with the devastating effects of this disease since she was a 3-year-old growing up in Carteret, New Jersey, Amanda, now a junior at the College of New Jersey, was compelled to raise money for research on this little known condition.
On September 21, 2008, Amanda flew to Chicago to walk in the Hike for Lung Health with Team Foundation for Sarcoidosis Research. Her goal was to raise $1,000 in honor of her father, Robert. Thanks to the extreme generosity of her family and friends, in one month she raised $2,395.
"I was only in Chicago for a day, but it was a completely surreal experience," Amanda explains. "I was announced at the walk for coming so far and for raising so much, and was able to be with people who actually knew how it felt to be affected by this little known disease."
With now only one parent to pay the bills, Amanda's Elks National Foundation Scholarship plays an important role in easing the financial burden of college.
"I have a great deal of respect and appreciation for every member of the Elks," says Amanda. "I am so grateful that they were generous enough to help me with my education."
At school, Amanda is majoring in Psychology. When not in class, Amanda can be found playing her trumpet at different venues near campus. She is also active in the Italian Club and Colleges Against Cancer, and is working to bring a program to campus that gets grieving college students involved in different service projects. After graduation, she plans to earn her Masters degree in music therapy, and continue to advocate for sarcoidosis research.
Amanda's favorite part of college has been getting a better sense of herself. With the help of the people she has met and the classes she has taken, she now has a much clearer picture of what she wants for her future.
For more information on sarcoidosis, visit www.stopsarcoidosis.org.
In 2008-09, the Elks National Foundation allocated $2.296 million to fund the Most Valuable Student Scholarships. For more information about the Most Valuable Student scholarship program, please visit www.elks.org/enf/scholars.