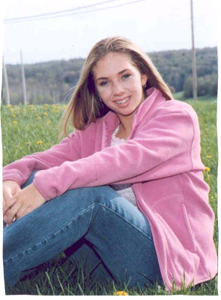 Even as a 4-year-old, Meghan Taggart of Bath, New York, carried a piece of chalk in her hands. She always dreamed of being a teacher.
"I've always wanted to teach," Meghan explains. "I love being around people, helping them and listening to them."
The sudden death of her father shook that dream. Suddenly, her own education was in jeopardy. Fortunately, her father was a life-long member of the Elks at both the Bath and Pen Yan Lodges. Thanks to her Elks National Foundation Emergency Educational Grant, Meghan is pursuing her dream at St. John Fisher College in Rochester, New York.
"Without this scholarship, I would not be at St. John Fisher College!" exclaims Meghan, now a senior. "I am so grateful and appreciative of the help I've received through the ENF."
Meghan, an Adolescent Education and English major, spent her 2008 fall semester student teaching at an inner-city high school in Rochester. Working with these students gave Meghan the tools she needed to become a great teacher, and made her confident in her career choice.
Growing up as the youngest of nine children, Meghan is used to hectic days. Her endless energy, determination and passion for a job well done help her to balance her demanding schedule. Although she wakes up at 6 a.m., Meghan's day doesn't end with the afternoon school bell. When not in the classroom or grading papers, Meghan can be found on campus tutoring in the writing center, or working at the service desk of a local supermarket.
After she graduates in May 2009, she plans to stay busy. She hopes to teach in the Rochester area, and eventually attend graduate school to study Literacy Education for fifth- through 12th -graders.
We wish Meghan luck during her last semester at St. John Fisher!
In 2008-09, the Elks National Foundation allocated $350,000 to fund the Emergency Educational Grant program for children of deceased or totally disabled Elks. If you know an Elk child who may be eligible to receive an Emergency Educational Grant, encourage them to visit www.elks.org/enf/scholars.