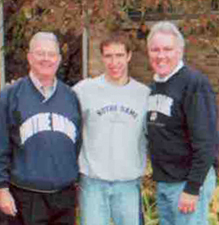 November 1 was a tough day for most Notre Dame fans. Their beloved Fighting Irish lost to Pitt in four overtimes, 36-33. But for sophomore Michael McMahon and Jim McQuillan, a past national president of the Elks, the loss did not dampen their new friendship.
Michael, a 2007 Most Valuable Student scholar from South Bend, Indiana, and Jim McQuillan, his MVS named scholar sponsor, spent the morning of the game getting to know each other. They met for brunch at the Morris Inn, and then headed over to Ivy Court where Mr. McQuillan's son hosted a pre-game gathering. Michael enjoyed spending time with three generations of McQuillans. According to Michael, "Mr. McQuillan and I had a great time and are definitely planning to keep in touch."
Michael first learned of the Elks while he was searching for scholarship opportunities. Today, the Elks have a far greater impact on Michael's life. Not only does his ENF scholarship allow him to attend Notre Dame, but his connection with people like Jim McQuillan will last far beyond Michael's college years. "My scholarship from ENF has reminded me to stay involved with my community," Michael explains. "Keeping in touch with family and old friends means a lot to me."
When he is not supporting the Fighting Irish, Michael, a mathematics major, is busy teaching religious education at his home parish, St. Matthew Cathedral. On campus, he participates in as many interhall and co-rec sports as possible, including football, basketball, baseball and volleyball. He also tutors students in math at the campus Learning Resource Center every week. He loves college because he has a different routine almost every day, and gets to spend much time outside enjoying Notre Dame's beautiful campus.
We are proud to have Michael as part of the ENF community!
The Named Scholarship Program matches donors who pledge to donate $4,000 to the ENF over four years with a Most Valuable Student Scholarship winner. Students communicate with their named scholarship sponsors through annual updates, and the sponsors are able to keep in contact with the students as well. This program provides personal connections between ENF scholars and Elks, and serves as a testament to the Elks generosity in the lives of our best and brightest youth. For more information on the Named Scholarship Program, contact Erin Rohan at ErinR@elks.org or 773/755-4858.