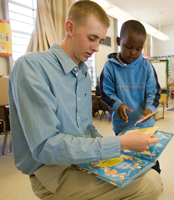 Chapter One. These words printed on the crisp opening page of a brand new novel always promise an action packed adventure, chilling thriller or engaging love story. Sadly, this eye-opening chapter does not exist for many young children whose families cannot afford books.
2008 Most Valuable Student Scholar Kyle Baldwin of Fairfield, California, has always had a passion for reading. In fact, Baldwin would rather read than play video games. Through participating in a 4-H project to build local library bookshelves, Baldwin realized that many children never have the opportunity to read. "In the process of organizing this project, I realized literacy was an issue in our community," explains Baldwin. "When I was told some kids grow up never owning a book, I was shocked."
In 2006, determined to spread the joy of reading to less fortunate children in his community, Baldwin and his younger brother Brady opened the first chapter of My Own Book, a non-profit designed to give away new books to children who otherwise would not experience the excitement of owning a book. The My Own Book team first collects brand-new books through drives or donations. They then take these books to schools where they read the children a story, talk about the public library, and finally let the students select their very own book, personalized with a name plate.
Since founding My Own Book, the Baldwins have used their non-profit to distribute more than 13,000 books. Through their website, www.myownbook.net, they have established new chapters in New York, New Jersey, and other states, and are hoping to spread My Own Book nationwide. Today, Kyle has started his freshman year at Bryant University in Rhode Island, where he is majoring in business and opening yet another chapter of My Own Book.
We can't wait to hear how this story unfolds!
Get involved! If you donate to My Own Book before December 1, 2008, and mention that you are an ENF Scholar, you can double the impact of your gift! The Elks National Foundation will match total donations from ENF Scholars up to a grand total of $1,000. Visit www.myownbook.net for information on how to donate.