A Life Full of Stories

From growing up in Europe to landing in Normandy on D Day, Max Oppenheimer has lived the kind of life you'd read in a book. And he might just be the one to write it!
Currently working on his 11th book, Oppenheimer mostly writes about language and the origins of words. "There's more to language than knowing what words mean," he explains. "Good language leads to good thinking."
Good thinking explains the creative ways that gold level donor Oppenheimer found to donate to the Elks National Foundation. In 2004, he donated a portion of the net proceeds of one of his books. Last year, he cashed in an annuity and divided the profits among his favorite charities, including the ENF.
"Even though I'm not an extremely wealthy man, I feel that once your family has been taken care of, you have a responsibility to give back for what you have received," says Oppenheimer. "I'm grateful for the life I've lived. I feel that I've been blessed and it's my obligation to donate to causes I believe in."
Doing Good Naturally A member of the Elks since 1959, Oppenheimer continues to be impressed with the dedication of his fellow members. He believes that it's natural for members to want to contribute to a cause like the Elks National Foundation.
"When you're close to an organization, you recognize how much they need your support," says Oppenheimer.
Doing what comes naturally has served him well throughout his life. After enlisting in the army during World War II, he returned home to continue his education at USC. After receiving his PhD, he moved around to San Diego, St. Louis, Iowa City and Florida to work at different universities. He even spent some time teaching English in China!
Spending most of his life in the field of education instilled in Oppenheimer a deep belief in the importance of education. Besides supporting ENF-funded scholarship programs through his donations to the Foundation, he recently donated money to endow a scholarship at State University of New York: Fredonia, where he maintains Professor Emeritus status.
Moving in the Right Direction Despite his strong convictions about the importance of scholarships, Oppenheimer believes it's also important to give back to your community in other ways.
"I think the Foundation's move toward more local grant programs is a good idea," he says. "It's important to know when to change direction."
Oppenheimer spent a large part of his life changing directions. His father's job moved the family to Germany when he was 5 years old. Eight years later, he found himself in a new country when his family moved again, this time to Paris. Fluent in German, French, Spanish and English, it's no wonder he became fascinated with languages. He credits his early life experience with teaching him the things that are really important in life. "I don't care about money," he says. "As long as I have enough to live on, I just want to do what I think is right."
At 90 years old, Oppenheimer has spent his lifetime accumulating knowledge. Now he wants to pass on that knowledge to other people through scholarships and other programs that benefit communities.
"I like to spread my donations around," says Oppenheimer. "There are so many people who need help. Donating to the Foundation allows me to help a wide range of people, which is something I can feel good about."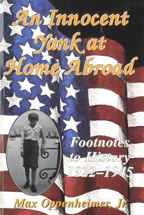 A Lesson in History Max Oppenheimer can teach you things you won't read about in a history book. After enlisting in the Army during World War II, Oppenheimer became part of the first Military Intelligence Service organization. His knowledge of different cultures and history of living abroad prepared him well for the role. He quickly rose from Private to First Lieutenant. His position led him to witness the pre-Normandy invasion experience and multiple military campaigns, including the discovery of the first Nazi concentration camp in Nordhausen.
"Many of the men and women kept there were used as slave labor," Oppenheimer describes. "The inhumane living conditions of these people were appalling and gave me cold chills…I saw live skeletons just lying there, next to corpses."
Oppenheimer recounts his extraordinary life including his role in the creation of the Intelligence Branch of the Army and his observations of occupied Germany, in his book, An Innocent Yank at Home Abroad. For more information, visit www.kspublishinginc.com/innocentyank.html.
---
Back to top