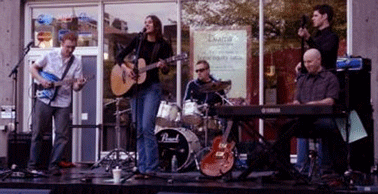 Liz Carlisle, a 2002 MVS recipient, performs songs from her album "Five Star Day." The Independent Music Awards nominated the album for the year's Best Country Album. Photo courtesy of Neale Eckstein.
As a child in Missoula, Montana, Liz Carlisle watched her mom sing as she danced around the house to her favorite tunes. As a teenager, Liz fought with her father to dominate the family car's radio pre-sets, so that country music would always be at her fingertips. As a student at Harvard, the Elks National Foundation Most Valuable Student Scholarship recipient has released a major studio album, "Five Star Day."
"I don't remember a time when singing wasn't a part of my life" says Liz, whose music receives airplay at commercial country and public radio stations across the country, as well as in international markets. "My family's love of music is a big influence."
Liz began writing songs as a teen to express herself. As she learned how to play guitar from her father at 17, she developed a music style that blends country, pop and folk. After moving to Cambridge to major in Ethnomusicology, the study of music in its cultural context, at Harvard, Liz started to sing at open-mic nights. At one of her performances, she met her producer, Russell Wolff, who has since helped to launch her music career.
"I find there are moments when I need a song," says Liz. "I need a song to feel something more deeply--to get fired up or to express deep gratitude or admit vulnerability. Sometimes, I can sing a song I already know. Other times, I need to create a new song."
A Student to Sing About
Liz has perfected the balance between her musical endeavors and academic duties. She was one of 24 students in her class to be selected for Phi Beta Kappa honor society as a junior, and is writing an honors thesis on the Falcon Ridge Folk Festival. Crediting her time at Harvard for many life-changing experiences, including joining student musical groups and classroom revelations, Liz is extremely grateful for the Most Valuable Student scholarship.
"I could not have attended Harvard without financial support," says Liz. "I cannot tell you how much it means to have had this opportunity in my life. To all those who have generously donated to support these scholarships, I extend my deepest gratitude."
One of Liz's most recent honors includes being selected to speak at Harvard's commencement ceremony, where she'll graduate this spring. During her speech, she'll address the importance of people who explore new frontiers and draw on her experiences at Harvard, as a musician and her Montana heritage.
"I was overwhelmed and very excited when I heard I was selected," says Liz. "I am really looking forward to sharing graduation with my family. They have been behind me all the way."
Road Scholar
Since the release of her first studio album, Liz has managed to find time in her busy schedule to tour across the United States and UK. She loves meeting people along the way and stopping for recommendations on where to dine on local fare. Spending time in different cities also reminds Liz of the country's diversity and uniqueness. "Local culture is alive and well," says Liz.
Knowing her music transcends state lines and country borders, as well as musical genres and cultures, brings Liz satisfaction. She savors the adoring emails she receives from someone in her hometown as much as an email from a person who lives halfway around the world and doesn't speak English.
"Once you've created a song, it means so much to know that it resonates with someone else," says Liz. "It's incredibly gratifying."
After graduation, Liz embarks on an international summer tour, which includes stops in the States, the UK, Germany and St. Lucia. Come fall, she'll return to Harvard to serve as a House Master's Assistant at an upper-class dorm, or "house." The job entails helping host events to entertain and unite the students living in the house, as well as perform other household duties. While there, she'll continue playing live and will start working on her follow-up album.
"I hope to continue my never-ending pursuit of deeper truth about the human condition," says Liz of her future plans. "I will most definitely be singing."
For more information on the Elks National Foundation's scholarship programs, visit www.elks.org/enf/scholars/ourscholarships.cfm. To learn more about Liz Carlisle, or to see if she's playing in your town soon, visit her website at www.lizcarlisle.com.