Above and Beyond the Call of Duty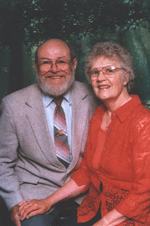 A lot can be learned from Gold Award Donor David Crumley, who lives entirely on his Social Security income. Don't think the two could possibly go together? Well don't tell the first Oregon Gold Donor that! As an avid community philanthropist and Coquille Valley Elk member the past 10 years, he's changing lives and doing so on a fixed income. That'd never discourage him from conquering something he believed in.
Humble Roots Dave Crumley first heard of his local Elks Lodge inadvertently through his daughter. At the time, she was attending college and applied for an Emblem Club scholarship. Upon receiving it, she was invited to speak at the Lodge and told her parents it was the women's affiliate to the Elks.
"Well if they're giving scholarships to people, maybe I'll join the Elks and help them," Crumley said. "I've always appreciated the support I received from scholarship and fellowship programs." Crumley followed through on his promise, and the rest is history. He was appointed scholarship chairman to the Lodge before even being initiated! The night of his initiation, Crumley showcased his fundraising talents by donating $100 and challenging the room to match, which they gladly did.
Being a firm believer in both education and the Elks' scholarship programs, Crumley has something in common with our recipients. He recently finished his Ph.D. thesis to graduate, summa cum laude, with a Doctorate degree in Philosophy. At 75, he continues to excel and understands the importance of a college education.
"A great deal of talent can go to waste if there isn't some means to assist the youth of our country," Crumley says. "I hope to help provide the means for talented and capable students to attain a higher education."
Leading the Pack As with many Elks, a high priority for Crumley is improving his community. So when he first heard about the opportunity to expand a local housing center for abused women, he jumped at the chance. Taking on a major leadership and fundraising role, he helped raise more than $100,000 for the Coos Bay Women's Safety & Resource Center. He did so through many different events, including a Coquille Valley Elks Golf Tournament, which helped raise money for the shelter and also shed a positive light on the Elks. Crumley had every service organization in the county donating to the Lodge, who then turned it over to the center.
"The Elks made a community need well known, and in every case the result was positive," says Crumley.
Crumley spends time volunteering for projects and organizations he believes in, but he also knows the importance of a monetary gift. He and his wife live solely on their Social Security income, while continuing to donate to their Lodge and community.
"Elks should never forget that our fundamental reason to be is to exist as a charitable order," says Crumley. "If we are claiming to be a charitable order, we should do so!" He always takes this fundraising outlook to heart. Prior to reaching the Gold level, Crumley challenged the members of his Lodge to reach $4,000 within the fiscal year. This, along with Crumley's donation, gave the Lodge a per capita of more than $15. No matter what Dave is tackling next, we know hell always go for the gold.
---
Back to top