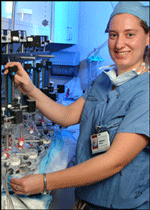 Cardiac Combat
Although her brother grew up healthy given his circumstances, Ben's biannual cardiology exams and daily medications remind the Holec family each day of medicine's miracles. "It truly catalyzed my desire to be a doctor," says Kelsey.
Kelsey was able to further her career aspiration through an internship at the Children's Hospital of Atlanta. There she was given the chance to perform cutting edge cardiac research and observe clinical interactions. "I was rewarded with advice, knowledge and motivation," says Kelsey. "Watching a mother weep for joy when she finds out her 15 month old survived surgery; having a 4 year old watch wide-eyed as his pacemaker is adjusted so he can go home these moments inspired my desire to practice medicine."
Overseas Aid During college, Kelsey also had the opportunity to travel to Peru and set up a medical mission with Children's Surgery International. She helped with dental and physical clinics in orphanages, and shadowed physicians. "The trip made me appreciate the great work that can be accomplished with a miniscule number of resources," says Kelsey, who credits the Elks for providing her with experiences such as these. "The MVS scholarship allowed me to study off campus during interim periods. I thank you for the wonderful growing experiences I was afforded through college."
Pure Passion Kelsey knows the road to becoming a doctor won't be easy, but she's ready to take on any challenge that comes her way. She plans to devote the next two years working for Teach for America, prior to attending medical school. Eventually she would like to put her teaching experiences to use by supporting a low income community, through health care education and medical outreach. "At the end of the day, many years from now, I would like to go home knowing that I love my profession," says Kelsey. "And helped someone's heart in the process."
- Kelsey Holec, 2002 Most Valuable Student Madison, Wis., Elks Lodge No. 410
---
Back to top