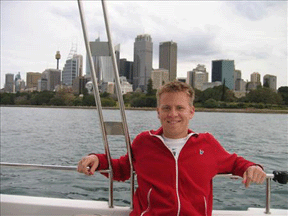 Traveling Man Last semester, Matthew had the opportunity to study abroad in Melbourne, Australia. He studied organizational behavior and financial valuation, but also learned many life lessons. He made friends from all over the world and experienced a fascinating culture and country. Matthew had the opportunity to see the Great Barrier Reef and Sydney Opera House. He also traveled with friends for three weeks through New Zealand and Fiji. They went hiking, sailing, mountain climbing and even skydiving.
"I returned home with some great new friends, a broadened perspective of the world, a penchant for traveling, a heightened sense of confidence and a lovely Dutch girlfriend," says Matthew. This summer, he'll be traveling to Europe to visit the friends he met in Australia.
Man for Others "To whom much is given, much is required, and I have been blessed beyond measure," says Matthew. In true Elks spirit, Matthew believes strongly in giving back to his community. For the past three and a half years, Matthew has volunteered as a Young Life leader. Young Life is an international Christian ministry dedicated to reaching out and building relationships with high school students through building relationships. During summers, he worked as a counselor at camps in North Carolina and Colorado. Also, Matthew was a founding member of Hyperion Council, an organization created to foster bonds between the University Of Miami School Of Business and the community by educating them about personal financial responsibility and the benefits of free enterprise.
Award Winner As a University of Miami senior, Matthew, is really living up to his Most Valuable Student status. He will be receiving the prestigious Dean's Award in memory of Beatrice Gitlow from the School of Business Administration on May 11. This is just one day before he graduates cum laude with a 4.0 GPA, general honors and departmental honors in finance. Matthew was chosen for the Dean's Award based on GPA and overall involvement and impact on the school. Matthew thanks the Elks not only for the scholarship, but for their support.
"In addition to the financial benefits," says Matthew, "I have been encouraged by the support of the Green Cove Springs Elks Lodge and my local community." After graduation, Matthew has accepted a position as a Corporate and Institutional Banking Analyst at The Royal Bank of Scotland in New York, commencing in July. -Matthew Gill, 2002 Most Valuable Student Green Cove Springs, FL, Elks Lodge No. 1892