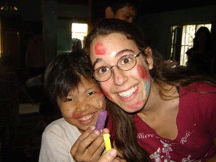 A Work of Art
Leah's involvement with the Children's Expressive Arts Project at Bard College began just two years ago. The project was started by a fellow student who experienced expressive art and its benefits in her childhood. The group visits a residential facility for emotionally disturbed children, as well as a school for autistic children on a weekly basis. "Our workshops have so much to do with simply being with the children while they play, supporting their experiences, and offering mediums or activities that might enrich their ability to express themselves," says Schrader. They train for these visits each weekend with a certified expressive arts therapist.
Abroad Bound Not only is Leah active in her own community, she also took her abilities overseas to Myanmar this past January. The Expressive Arts Project spent two weeks in the small Asian country, encouraging creative learning. They conducted workshops and donated $2,000 in art supplies to fourteen orphanages in the country. "The children were so willing to play with us, and we were excited to watch them have their first experience with materials such as pipe-cleaners and finger paints," Schrader explains. They also spent time with the children's caretakers, to educate them on the importance of play and creative communication outlets. The student group hopes to spread the arts to underprivileged children in New Orleans and Colombia in the near future.
Humanitarian Hero Currently, Leah is a psychology major at Bard College, where she develops her creative arts knowledge. "I hope to be able to draw on the many perspectives I am exploring," says Schrader. "I want to help children become people who believe in themselves and others." This future philanthropist is also very grateful for the opportunities given to her. "The Most Valuable Student scholarship has allowed me to make a difference in the lives of children," says Schrader. "Without the scholarship, I would have difficultly attending Bard and finding the time for activities like the Children's Creative Arts Project."
For more information on the Children's Expressive Arts Project, visit http://bardceap.blogspot.com. -Leah Schrader, 2003 Most Valuable Student Farmington, Me., Elks Lodge No. 2430
---
Back to top