Roses, buds, thorns: the good, the good things to come, and the bad. At the end of the 2023 Most Valuable Student Leadership Weekend, many of the Top 20 scholars said that the rose from their weekend was meeting one another and the bud was 19 new friendships and the future to come.
For the first time since 2019, the Top 20 gathered in person to get to know one another, as well as current Elks scholars and alums; interview for the top awards of $50,000, $40,000 and $30,000; and learn about their new #ElksFamily.
The weekend was full of team-building exercises and activities like Tell My Story, which allowed the scholars to learn about one another's backgrounds and passions.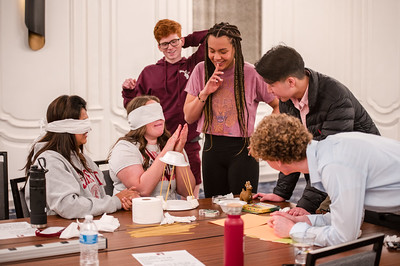 Karen Dorantes, sponsored by Salinas, Calif., Lodge No. 614, and Marissa Schirmer, sponsored by Lebanon, Ind., Lodge No. 635, learned they were both twins, while Andrew Shelton, sponsored by, Lamar, Mo., Lodge No. 2800, and 2023 top winner Diya Jha, sponsored by Frederick, Md., Lodge No. 684, discovered their shared dedication as second-degree black belts in Taekwondo.
"It's been great to meet students who share a common goal and students who have accomplished so much in their short lives," says Karen. On Friday, the scholars visited the Elks Veterans Memorial and Headquarters, where they participated in a scavenger hunt designed to teach them about the Order.
"My favorite part was going to the Elks Memorial because it was nice to learn about this organization that's supporting all of our journeys," says third-place winner Aaron Tran, sponsored by Hollister, Calif., Lodge No. 1436.
Then, the scholars volunteered at Cradles to Crayons, a nonprofit organization that provides children ages birth to 12 living in under-resourced areas with the essential items they need to thrive at home, at school and at play.
Cradles to Crayons employee Veronica expounded on the organization's belief, Quality=Dignity, by telling the scholars, "If you wouldn't give it as a gift, we don't want to give it either."
For two hours, they sorted clothes from donation bags, rubber-banding pairs of shoes together, determining if onesies should be in the long-sleeve shirt or the pants bins, and discarding clothes that didn't meet the standards.
"It was my first time doing service at an organization like that," says Aaron. "It made me feel proud that I was able to serve the community during my time here."
That night, Shermann "Dilla" Thomas, a Chicago Urban Historian, presented on the city's rich history, which includes the invention of the assembly line and the brownie. The next day, the scholars experienced firsthand some of the city's defining qualities with a trip to the world-famous Cloud Gate, a.k.a The Bean, and a dinner cruise on Lake Michigan.
Although initially shy, the scholars were coaxed onto the boat's dance floor by 2003 Most Valuable Student top winner and Elk from Provo, Utah, Lodge No. 849, Sean Loosli, who was in Chicago to serve on the interview panel and as a scholar leader. After fulfilling his official duties, Sean connected with the scholars on a personal level, staying up late to supervise and play games as the Top 20 made the most of their time left together before the looming thorn: early morning flights home.
College—and life—is easier with friends by your side, and now the 2023 Top 20 MVS scholars have not only the 19 new friends they made during Leadership Weekend, but the whole #ElksFamily behind them.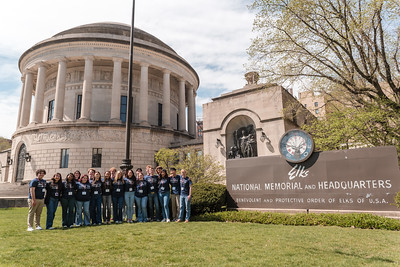 For 2023-24, the Elks National Foundation allocated nearly $2.9 million to fund the Most Valuable Student scholarship program, which includes 500 four-year scholarships ranging from $4,000 to $50,000. For more information about the Most Valuable Student scholarship program, including eligibility and deadlines, visit enf.elks.org/MVS.