For 134 years, the Rose Parade has marked the beginning of a new year. Tournament of Roses President Amy Wainscott describes the 2023 theme Turning the Corner as, "celebrating the unlimited potential that each new year brings… Turning a corner means rising above." Elks programs are built on the philosophy of rising above adversity and helping others do the same. On January 2, the Benevolent and Protective Order of Elks' Rose Parade float will feature a few stand-out program participants, including 2022 Hoop Shoot National Finalists and sisters Kyla and Kira Lea, sponsored by Riverside, Calif., Lodge No. 643 and 2021 Most Valuable Student Scholarship third-place winner Pedro Calderon, sponsored by Oxnard, Calif., Lodge No. 1443.
In a television interview about the float, which is aptly titled Elks Investing in Our Communities, Past National President Robert Duitsman said, "Some people might think of [the Hoop Shoot] as simply a free throw contest, but we look at it as a vehicle to evidence discipline, commitment and goal direction."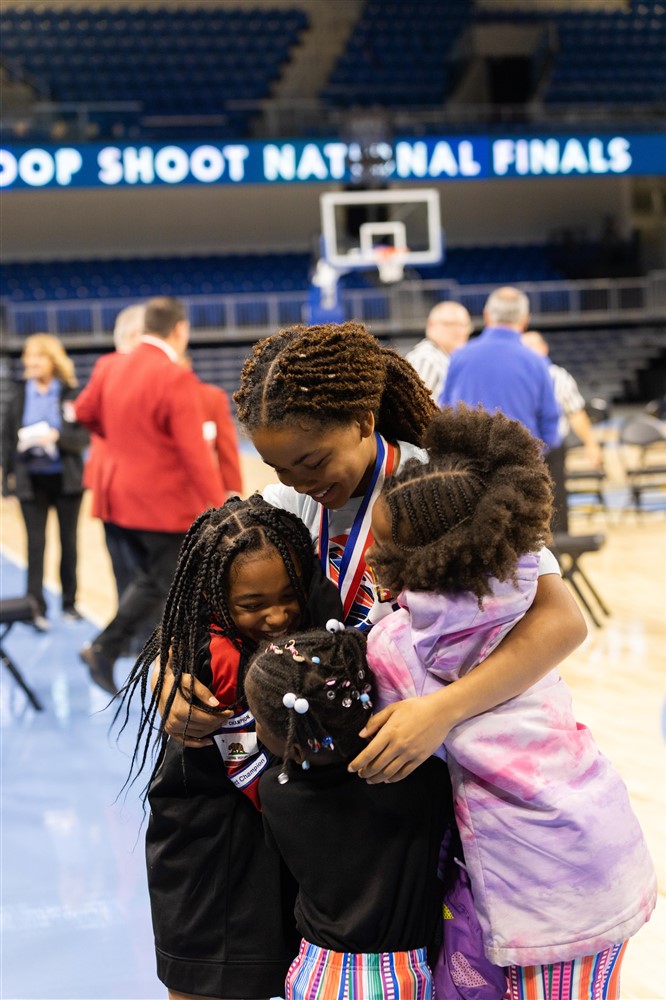 Kyla and Kira Lea are perfect examples of that ideology; their practice and determination took them both all the way to the National Finals in their first year competing. In true Hoop Shoot fashion, they named each other as their biggest supporter, and the whole family was thankful for the experience—win or lose.
"That's why I like the Elks Hoop Shoot," Marvin Lea, Kyla and Kira's dad, says. "It aligns with our philosophy: it's okay to dream."
With a father who coaches basketball, Kyla and Kira were already more than familiar with basketball when they happened upon a Hoop Shoot flier at the local gym. Despite never participating in the program before, Kyla took home the gold, placing first in the girl's 10-11 division. She can proudly call herself an Elks Hoop Shoot National Champion, and she can tell people her name is now in the Naismith Memorial Basketball Hall of Fame. Kira placed 7th in the girl's 8-9 division.
It takes grit and determination to be successful in the Hoop Shoot. It's easy to see both Lea girls have the unlimited potential Wainscott wanted to celebrate during the 2023 Rose Parade.
Joining Kyla and Kira on the float is 2021 Most Valuable Student scholar Pedro Calderon. Pedro won a $30,000 scholarship and is studying engineering at the University of California-Los Angeles. Working long hours on the family farm and facilitating STEM tutoring services at the local library inspired Pedro to help others receive an education.
"I am the first in my family to pursue a degree in engineering," Pedro says. "Thus, I am making my own pathway to success in STEM." Pedro plans to use his degree to establish engineering internships, STEM scholarships, and mentorship programs for individuals like himself who are first-generation college students from low-income households with the desire to study STEM.
Despite not having a physical representative at the parade, the Community Investments Program is there in spirit. With $15.7 million helping Lodges build stronger communities this fiscal year, the spirit of the CIP—and the Elks—is everywhere. Lodges use CIP grants for projects running the gamut of addressing veteran homelessness and reducing food insecurity to improving literacy.
Pedro, Kyla and Kira have certainly gone above and beyond in their respective fields as well, which is why they're perfect to represent Elks' programs on the float.
A 501(c)(3) public charity, the Elks National Foundation helps Elks build stronger communities through programs that support youth, serve veterans and meet needs in areas where Elks live and work. For more information on the ENF, visit elks.org/enf.