In February, the Elks National Foundation Board of Trustees headed to Arizona for the semi-annual board meeting. There, the board approved a total budget of $42.5 million—including $39.8 million for program services—for the 2022-23 fiscal year: a 7 percent increase from this year's budget.
"It makes me so proud," says Assistant Director Debbie Doles, who's been with the ENF for more than 18 years. "That number goes up every year, and it goes up because of the important work we are doing in Elks' communities."
The Foundation's largest program, the Community Investments Program, offers one of the most direct ways for Elks to build stronger communities. In 2021-22, four out of five Lodges received at least one CIP grant.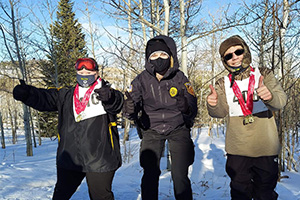 Next year, the CIP will offer $15.7 million in grants, and that package will include some major increases.
Beacon Grants, which are available to every Lodge, will increase to $4,000, and a third bonus will be added to the $2,000 Gratitude Grant, which is available to Lodges that reached the National President's per-member-giving goal in the previous year.
Lodges can earn $500 if 15 percent of its members donate at least $10 to the ENF, and they can earn an additional $500 if 5 percent of its donors are members of the Fidelity Club. Starting in 2022-23, Lodges with a broad-based fundraising program can earn a third $500 bonus. The fundraising bonus is tied to the Chair Challenge, which recognizes Lodges for having broad-based fundraising programs. Lodges can earn up to 1,000 points, but those that get 550 or more will secure the Chair Challenge Bonus on the Gratitude Grant. That means Lodges that earn all three bonuses could receive a $3,500 Gratitude Grant.
The Elks National Veterans Service Commission also got a boost in next year's budget. The Commission's Welcome Home program will expand into two more cities: Orlando and Phoenix. That brings the initiative to end veterans homelessness to 12 key areas. Since 2015, the ENVSC has helped nearly 2,800 veterans exit or avoid homelessness, and it will continue to do so next year with a $4.6 million grant from the ENF.
Elks scholarships will receive a total of $4.9 million. The ENF designated $2.8 million to fund the Most Valuable Student scholarship program, and $1.6 million to the Legacy Awards scholarship program. On top of that, the ENF will double the number of Gunther & Lee Weigel Medical School Scholarships it awards to 20, and the scholarships are worth $22,000. And, more than $130,000 was allocated to Emergency Educational Grants for the children of deceased or disabled Elks.
Last but not least, the budget allocates $1.4 million to the Hoop Shoot, an increase for the national program's 50th anniversary. The Drug Awareness Program will receive $1 million, including a $225,000 grant from the DEA. "Our spending on our programs alone has increased over the past 15 years by about 200 percent," says O'Kelley. "It's really started to accelerate, and I think people are feeling good about their Elks National Foundation and the way we are helping them build stronger communities."
The ENF will also grant $10.4 million to state Elks Associations. Each year, the ENF strives to grant more money back to each state than it received from that state in donations.
"We are pleased to be your partner in building stronger communities," O'Kelley says. "You keep doing good work out there, and we'll keep finding money to support it."
A 501(c)(3) public charity, the Elks National Foundation helps Elks build stronger communities through programs that support youth, serve veterans and meet needs in areas where Elks live and work. For more information on the ENF, visit elks.org/enf. Review the 2022-23 grants and appropriations at enf.elks.org/appropriations.