November is Elks Veterans Remembrance Month, as well as National Veterans and Military Families Month, a time when Americans acknowledge the sacrifices made by those who have served. However, many veterans and military families face daily challenges that don't fit neatly into a single month.
According to the National Alliance to End Homelessness, 37,252 veterans experienced homelessness on a single night in January 2020. Only 22,048 of those veterans were sheltered, which left 15,204 veterans unsheltered and exposed to the elements.
Veterans' homelessness is a pervasive problem caused by economic hardship and lack of affordable housing, and Elks step up year-round to combat that problem. The Elks National Veterans Service Commission is dedicated to helping end veterans' homelessness, providing much-needed supplies, and creating opportunities for social activities and recreational outings for veterans.
One of the ways the ENVSC seeks to end veterans' homelessness is through Freedom Grants, which are competitive grants awarded to Lodges to help Elks serve veterans and active-duty military members in their community.
Naval (Port Angeles), Wash., Lodge No. 353 is located on the Olympic Peninsula, which, according to the Veterans Administration, is home to 15,000 veterans—the highest per-capita percentage of veterans in the country.
"It is impossible to know for sure how many of those veterans are facing homelessness, but we know they are in our community, and we want to be a central place that can be counted on year-round to provide necessary items to veterans," says Paul Collins, the Naval (Port Angeles) Lodge Grants Coordinator.
To build this haven of resources, the Naval (Port Angeles) Lodge used a Freedom Grant to create a Veteran's Basic Needs Closet at the Lodge. The dedicated space stocks necessities like coats, gloves, hats, sleeping bags, back packs, sleeping mats, hygiene items, and snacks for veterans in need.
"These emergency items ensure veterans have access to appropriate clothing for the season," Collins says. "Additionally, it provides items to help make them comfortable and safe in the space they are in."
The Lodge is in a central part of town, which makes it an optimal place for veterans to go when they need supplies. The Lodge partners with several local organizations—including the North Olympic Regional Veteran's Housing Network, Voices for Veterans, and local first responders—to help identify veterans needing assistance so the Elks can proactively deliver packs.
Some Lodges, like Murphysboro, Ill., Lodge No. 572, use the Elks National Foundation's Community Investments Program grants to provide aid to veterans in their community.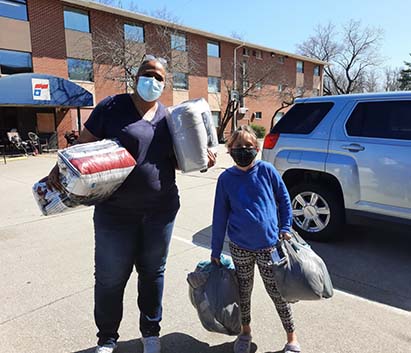 The Murphysboro Lodge used its Beacon Grant to aid The Haven, a special facility operated by the local American Legion to provide rehabilitation and entertainment programs for veterans. With the Beacon Grant, the Lodge is going into their seventh year supporting The Haven's monthly Mental Health and Intensive Case Management sessions for veterans.
"COVID isolation through the past year and a half has increased the need for support of veterans, many of whom were already having a difficult time," says Merle Evans, the Murphysboro Lodge Secretary.
The Haven provides monthly counseling sessions to veterans with disabilities and those experiencing PTSD, medical issues, home care, nutrition issues, and homelessness.
According to the National Council for Mental Wellbeing, 30 percent of active-duty personnel who were deployed in Iraq and Afghanistan have a mental health problem that requires treatment. Of those 30 percent, only half receive care, which makes programs like The Haven's so important.
The Murphysboro Lodge purchases food from a local catering kitchen, transports the food to The Haven, and serves meals before the counseling sessions. When requested, the Lodge also provides take-home meals for the veterans and other individuals in their household. Over the past six years, the Murphysboro Elks have gained popularity with the local veteran population.
"Many of our Elks volunteers are, themselves, veterans, and take on the duty to interact with and become confidants of these men and women," says Evans. "Our Elks even poll those in attendance about what special menu items they might like."
The kindness and care of the Elks goes a long way to improving the outcome of veterans' lives. Lincoln, Neb., Lodge No. 80 is proof of this—using both its Freedom Grant and Beacon Grant to provide cleaning and self-care products to recently housed veterans living in a subsidized apartment complex.
Lincoln Lodge Secretary Laurie Montag hopes that the cleaning and self-care products will give the veterans a sense of pride in their homes and appearance, along with the certainty that those products are available to them. Some of the veterans in the apartments have graduated from a nearby tech school, gotten jobs, and moved to the city.
"Services for job training, life skills, and addiction counseling are available to veterans through the nearby V.A. clinic," Montag says. "We want to incentivize these veterans to take part by showing them that people care what happens to them and they are not alone moving forward." Meeting the needs of today's veterans illustrates the Elks' dedication to serving today's veterans year-round—today, tomorrow, and into the future.
Celebrate National Veterans & Military Families Month with the ENVSC through special programming this month! Visit elks.org/vets for more information.
The Elks National Foundation ensures our veterans are never forgotten. In 2021-22, the ENF granted nearly $4 million to meet the needs of veterans through the Elks National Veterans Service Commission, including $1.6 million to help end veteran homelessness. For more information about the Veterans Service Commission, visit elks.org/vets.