2017 MVS Scholar
Sponsored by Burien, WA No. 2143
Weill Cornell Medical College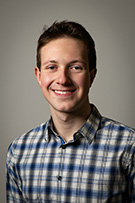 "For me, being an Elks scholar goes hand-in-hand with my commitment to service as one of my core values. Arriving at Yale for my undergraduate degree, my Elks scholarship empowered me to engage in service as part of my everyday life, rather than as an occasional obligation. With the Elks scholarship funds, rather than working 5-10 hours a week at a campus job, I could dedicate this time to volunteering every week, year-round at the Haven Free Clinic. My time at the free clinic has been the most rewarding community service endeavor of my life and transformed my vision for my future medical career—I have the Elks to thank for making this possible."
After losing her husband, Gunther, to a staph infection in November 2009, the late Lee Weigel wanted to improve the quality of healthcare in our country. To realize that goal, she partnered with the Elks National Foundation to endow the Gunther and Lee Weigel Medical School Scholarship, which helps Elks scholars pursue careers in medicine. For more information, visit enf.elks.org/WeigelMSS.
---
Back to top