A True Champion of the Order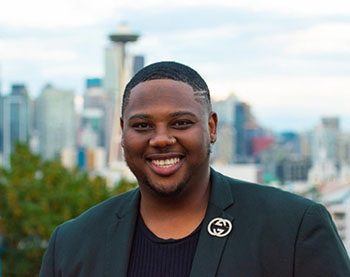 The second you meet Jay Little Cunningham, you know you are in the presence of greatness. The Most Valuable Student scholarship contest national judges knew that back in 2016 when they named him the top male winner with a $50,000 scholarship. Since then, Cunningham has made it a point to pay it forward. From serving as an Elks Scholar Leader at Elks National Foundation events, to becoming an ENF donor and joining Gulfport, Miss., Lodge No. 978, he embodies what it means to be a champion of the Order.
That is why the ENF is proud to announce Jay Little Cunningham as the 2021 Elks Scholar Alum of the Year.
A native of Artesia, Mississippi, Cunningham graduated from the University of Alabama in 2019. Cunningham is a computational social scientist and third-year doctoral student in human-centered design and engineering at the University of Washington in Seattle. His graduate research explores the social and ethical implications of race, culture, identity and power at the intersection of artificial intelligence, machine learning/natural language processing, and ubiquitous computing, primarily through community-based approaches aimed to foster equity and inclusion in technology design and development.
In a recent trip to Chicago, Cunningham dropped by Elks headquarters to have lunch with Foundation Director Jim O'Kelley and Elks Scholar Fellow Grace Roebuck. Cunningham expressed his gratitude for his Elks family. "Jay received many generous scholarships to attend college," O'Kelley recounts. "But the Elks are the one organization he stays connected to. We're family."
"The ENF has such a special place in my heart," says Cunningham. "My Elks family is always supporting and cheering me on."
As the Alum of the Year, Cunningham will receive recognition during the 2022 Elks National Convention in Atlanta and a $500 grant to donate to the nonprofit of his choice. He will also serve a one-year term on the Elks Scholar Advisory Board.
---
Back to top