Mini Trips, Major Impact
After a 16-month, COVID-induced hiatus, Elks Scholar Service Trips returned this summer in a mini way with a major impact.
"We put the trips on hold for the safety of the scholars, staff, Elks, and the populations we serve," says Grace Roebuck, a 2016 top 20 Most Valuable Student who serves as our Elks Scholar Fellow, responsible for planning and leading the service trips. "But, we had a window this summer, and we sprang through it."
Elks Scholar Service Trips are opportunities for Elks scholars to learn about societal issues, serve those in need in the name of the Elks, and connect with their Elks Family from across the country. Roebuck planned three miniature versions over a six-week period in Chicago, Santa Monica and Boston. The idea was to involve as many scholars as possible while minimizing the need to travel long distances.
While the trips were mini in terms of length—three days instead of a full week—and size—designed for around 10 scholars instead of 20—the impact was significant.
The trips kicked off in Chicago, where nine scholars gathered to serve from July 20 to 23.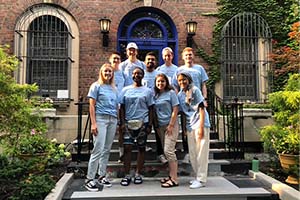 On the first day, the scholars served at Humble Design, a non-profit that provides furniture and household goods to individuals and families who recently exited homelessness. There, the scholars sorted donations in the warehouse, getting them ready to decorate new homes.
The next day, the scholars prepared and served more than 200 meals at three non-profits that support individuals experiencing homelessness: Care for Friends, The Night Ministry, and Lincoln Park Community Services. Throughout their service, the scholars were touched by the people they met and the stories they heard.
"Across organizing furniture donations, cooking meals in the kitchen, and interacting directly with members of the community that we had the pleasure of serving, the enthusiasm shared by everyone on the trip was tremendous," says 2018 MVS top winner Shiv Patel.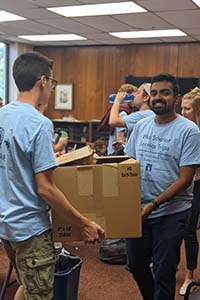 When scholars weren't busy serving, they spent time getting to know one another and exploring Chicago. They ate deep-dish pizza, toured the architecture along the river, biked on the city's iconic lakefront, and visited Elks Headquarters.
"My time on the trip has taught me the value and intention of volunteering, and I hope to carry this personal growth with me as I pursue a profession dedicated to helping others in need," says Patel, who recently received a 2021 Weigel Medical School Scholarship toward his education at Northwestern University Feinberg School of Medicine.
Shortly after the first round of scholars left Chicago, 10 others headed to Santa Monica for the second of the three mini service trips from August 4 to 7.
During their time on the West Coast, the scholars worked with two service sites: Harvest Home and A Safe Place for Youth (S.P.Y.) Community Garden.
At Harvest Home, a community for young mothers-to-be and new mothers experiencing homelessness, the scholars sorted baby clothing, inventory and resources, and packed baskets with essentials for the residents and their newborn babies.
The L.A. County Health Department, where Harvest Home is located, estimates that 5,000 women experience homelessness at some point during their pregnancy, and the pandemic exacerbated the situation. Harvest Home has 10 shelter beds and is currently expanding to provide more.
An alumna of the program spoke candidly with the scholars about her life, living with Complex-PTSD, and the healing she experienced while residing at Harvest Home.
"I was impressed by her determination to provide a better life for her child," explains Brian Chavez, a 2018 MVS scholar from Texas. "I am grateful to the organization for letting me volunteer there, as it was such a meaningful experience."
At Safe Place for Youth, a community for youth facing housing insecurity, the scholars served in the Community Garden while learning about the organization's internship program. The internship offers an opportunity for youth to develop job skills. Interns experience an entire growing season and learn to care for the garden's many plants through discussions, garden walks and hands-on work.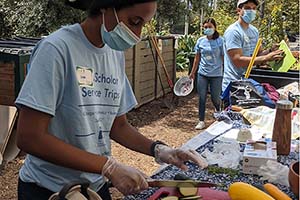 While one group of scholars cleared massive roots from a future butterfly garden, another group harvested vegetables to prepare a meal to share together. Scholars gained insight into the importance of access to food systems and fresh food, while sprouting a new appreciation for freshly made meals.
In addition to serving at two sites, the scholars received a warm #ElksFamily welcome from four different Elks Lodges, including Santa Monica, Calif., Lodge No. 906, where they packed hygiene kits alongside 2021 Legacy scholar Elise Knebel.
Though Knebel wasn't on the service trip, she received a Cornerstone Grant, a $500 grant available to Elks Scholars to complete a service project with an Elks Lodge. Knebel's project, Kindness Kits for Veterans, was completed alongside the Santa Monica Elks. The scholars also met Past National President Bob Duitsman and competed in the first-ever Elks Scholar Olympic Games during their time in California.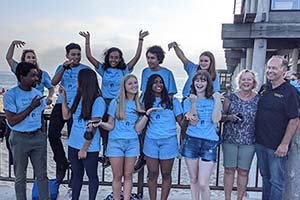 In merely two and a half days, the scholars went from strangers to friends—a common thread on all the trips.
Highlighting the importance of connecting with Elks and Elks scholars, Nish Karamuri, a 2019 MVS scholar sponsored by Statesville, N.C., Lodge No. 1823, reflected on the trip: "I applied on a whim, and it was really cool to make the Elks and Elks scholars feel real."
Last but not least, 12 Elks scholars shipped up to Boston to round out the summer service trips from August 19 to 22.
The scholars served three different organizations. On the first day, they sorted and boxed more than 8,500 pounds of food—roughly 7,000 meals—at the Greater Boston Food Pantry.
Then the scholars split into two groups to work with Fresh Truck, a mobile market bringing fresh produce to communities facing inequitable access to healthy food items. There, the scholars helped customers shop for groceries, and several scholars had the chance to serve as translators for community members.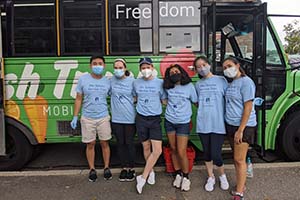 On the final day of service in Boston, the scholars headed to Cradles to Crayons to sort, clean, and package shoes and outfits for children in need.
The day ended with a scholar-coordinated Tik-Tok dance, a visit to the Isabella Stuart Gardiner Museum, and a dinner outing at Quincy Marketplace. Amidst all of the fun, the scholars also had time to connect with two Weigel Medical School scholarship winners local to Boston—2020 Weigel recipient and MVS scholar Ganeev Singh, who is studying at Tufts University School of Medicine and Jessica Phan, 2021 Weigel recipient and MVS scholar studying at Harvard.
From coast to coast, Elks scholars rallied to meet the needs of different communities. Not only did they engage in impactful service, but they also created long-lasting memories and friendships with their #ElksFamily along the way.
"I found myself incredibly close to a group of people I had just met," says Patel about the Chicago trip. "This camaraderie is something I will cherish for years to come, and hope that other Elks scholars will take advantage of such a unique opportunity to engage with the Elks community as well.
The Elks National Foundation offers three Elks Scholar Service Trips per year. These trips provide scholars the opportunity to learn about societal issues, serve those in need in the name of the Elks, and connect with their Elks family from across the country. For more information about the trips, visit enf.elks.org/ScholarServiceTrips.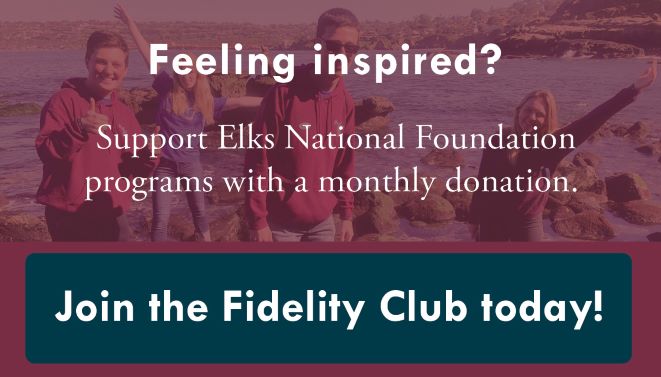 ---
Back to top