Going Platinum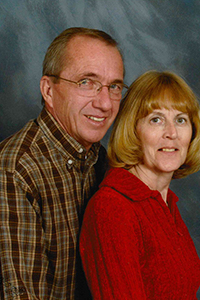 In 2020, a record number of donors achieved the Platinum level of the ENF's cumulative recognition program, which honors lifetime gifts totaling $50,000. Seven ENF supporters reached that level last year: Linda Weigel, Jerry and Linda Grimes, Ernest Roales, L. Scott Henry, Raymond Ross and Mark Caron. They join a group of 33 Platinum lifetime givers.
Jerry Grimes joined Kingman, Ariz., Lodge No. 468 in 1978, and he made his first donation to the ENF on the night of his initiation.
Jerry and his wife, Linda, saw how much the ENF helps Elks build stronger communities across the country and became involved with ENF programs several years after Jerry joined.
The Grimeses have helped meet needs in their community through many ENF programs; their favorite is the Hoop Shoot.
"We have seen firsthand how it has enriched the lives of the competitors and their families," Jerry says. "We have past competitors or family members from years back approach us and express their appreciation for the experience the program offered their entire family."
The Grimeses are proud to support the Foundation in the way they have, and they know their support—alongside that of many others—helps to secure ENF programs for future generations. But most of all, they are proud to be Elks.
"[The Elks provide] the opportunity to be called upon when a community member is involved with a project or needs assistance for a worthy cause," Jerry says. "They ask an Elks member who is willing to go the extra mile to give them a helping hand."
Dr. Raymond Ross has been going the extra mile since 1974, when he joined Colorado Springs, Colo., Lodge No. 309 after retiring from his 20-year career in the U.S. Air Force.
After joining the Order, Ross became involved with the ENF through his Lodge and began donating to the Foundation.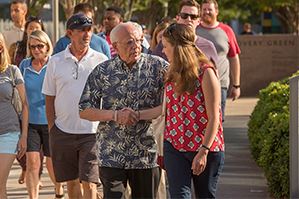 "The ENF seemed like the best way to invest my donations because they are returned many times over to the Colorado state major project," Ross says. "I do not know of another organization where our communities receive back almost double our investments."
Over the years, Ross has been involved with the ENF's youth and veteran's programs, but Elks scholarships hold a special place in his heart.
Ross and his late wife, Amie, spent hours interacting with MVS and Legacy applicants, and Ross has served as his Lodge's Scholarship Coordinator for more than 25 years.
"For me, the scholarship program helps cultivate the citizens of our future, and the students who receive our scholarships never forget that it was the Elks who helped them when they needed financial assistance the most," Ross says. "I am very happy to know that scholars later join the Elks with the idea of helping other students who follow."
As for his tremendous support of the Foundation, Ross quietly shares the honor with his late wife. And, though he holds the Platinum recognition close to his heart, he holds the thank you letters and cards he's received from scholars he's connected with even closer.
"To me, it is not reaching any specific level that is important. The most important element in all of this is the giving back to our community," Ross says. "To recognize that my donations helped someone in some small way is something I will carry with me always."
Like Ross, Mark Caron shares his achievement with others.
Caron joined Sanford, Maine, Lodge No. 1470 in 1994 when his close friend told him about the Elks and their community service.
Caron was inspired by the passion he saw in the Lodge's officers and volunteers as they utilized Foundation programs to build a stronger community, and it wasn't just Sanford's members that motivated him.
"Upon attending my first Maine State Convention, it became incredibly clear to me that the passion I witnessed at the Lodge was equally exemplified at the state level," Caron says.
At that convention, Caron met Walter "Deacon" Morrison of Presque Isle, Maine, Lodge No. 1954, who was energetic and enthusiastic about fundraising for the ENF.
Being constantly surrounded by motivated and inspirational leaders and volunteers at the Sanford Lodge drove Caron to give back.
"Their endless passion for the ENF is a testament of their character and commitment to our community," Caron says. "Their sweat equity—or as one Elk working on the Hoop Shoot called it, 'Sweet Equity'—is truly motivating and they're deserving."
For Caron, reaching the Platinum level and supporting the Foundation in the way he has all stems from the pride he takes in being part of a team of compassionate and giving people.
"This cannot be an individual recognition," Caron says. "It is shared by all those at the Sanford Lodge, as well as the state of Maine, who have contributed and participated to create the benefits to the ENF program recipients."
"What more motivation or inspiration could anyone want but to be a part of something truly greater than us all?"
To learn more about the Elks National Foundation and our recognition programs visit enf.elks.org/recognition.
To view your cumulative giving total, visit enf.elks.org/MyENF.
---
Back to top