ENF Board of Trustees Updates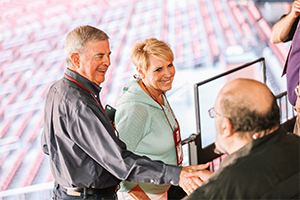 The 2021 Elks National Convention was full of old faces and new, hellos and goodbyes. The Elks National Foundation Board of Trustees said some hellos and goodbyes, too.
PGER Jim Grillo's two-year term as Board Chair came to an end.
"I'd like to say that the time flew by, but as we all know, the last 15 months were incredibly long," Grillo said. "But I'm proud of the way we navigated the pandemic. The Foundation is stronger than ever, and Jim McQuillan has Elkdom in his heart and the talent and experience to lead us into a bright future."
A member of Ogallala, Neb., Lodge No. 1760, PGER McQuillan joined the Board of Trustees in 2017. He will lead the Board as Chair until 2024.
"The Foundation has been blessed with strong leadership, and I'm honored and privileged to be part of that," McQuillan said. "In my four years on the board, we've increased spending on our programs by more than 36 percent. I want to keep that growth going. I want to ensure that our Elks programs have the resources they need to achieve their objectives and meet new challenges."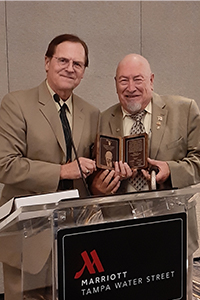 The ENF is extremely grateful to PGER Chuck Williams, who stepped down from the Board after 12 years, including two as Chair from 2015 to 2017. At Convention, the Foundation honored Williams for his service to the ENF, its donors, and programs with a special recognition plaque.
"Years ago, one of my mentors, PGER Willis C. McDonald, told me how proud he was of his work on the ENF Board," Williams said. "'We help so many young people achieve their dreams,' he told me. 'It just makes you feel so good.'
"Today," continued Williams, "I know exactly how he felt. My time on the ENF Board kept me young."
PGER John Amen, who served as the National President in 2014-15, will complete the remaining two years on Williams' term.
"Big shoes to fill," Amen said. "Chuck lives and breathes Elkdom, but we both love the mission of the Foundation. It's an honor to serve, and a dream come true."
A member of Denver, Colo., Lodge No. 17, Amen also serves as Chair for the Elks National Veterans Service Commission.
A 501(c)(3) public charity, the Elks National Foundation helps Elks build stronger communities through programs that support youth, serve veterans and meet needs in areas where Elks live and work. For more information on the ENF, visit elks.org/enf.
---
Back to top