The breadth of humanity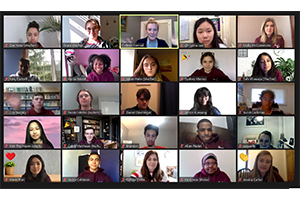 For the second year, the MVS Leadership Weekend went virtual, bringing scholars from California to Pennsylvania together to share their stories and interview for the top six awards.
After a year of Zoom classes and get-togethers, the Top 20 joined what might have been the most important Zoom call so far—with $50,000 at stake. But besides the all-important interviews on Saturday morning, the weekend was filled with fun and fellowship.
The festivities kicked off on Friday, April 23, when the scholars shared their shields: personal crests representing their proudest accomplishments, favorite places, dreams and hopes for the future, and their favorite books.
Daniel Dischinger, sponsored by Cynthiana, Ky., Lodge No, 438, shared that his Eagle Scout rank is his "crowning achievement, and without a doubt, my longest commitment." Besides his passion for collaborating with others toward a common goal, Daniel's favorite place to be is at a park with his dog, Tasha.
Daniel dreams to leave a tangible effect on the world. "I might not be able to cure cancer, but I want to know I've done something good in my community," he says.
Helping their communities was a common thread connecting the scholars.
Gellila Asmamaw, sponsored by Lancaster, Pa., Lodge No. 134, bridges disconnections as an Ethiopian Sign Language interpreter. She dreams of being a surgeon and working with Doctors Without Borders to address healthcare disparities in war-torn countries.
Tenzin Kunsang, sponsored by Chicago Northshore, Ill., Lodge No. 1316, wrote a children's book with fellow young Tibetan Americans.
"We were collectively inspired by being the children of immigrants and being Tibetan in America," Tenzin said. "It's inspired by our parents and grandparents."
While Tenzin and the other top scholars were guaranteed scholarships of at least $20,000, Saturday morning offered the chance to interview with a panel of three judges for the top six awards—two each at $30,000, $40,000 and $50,000.
But that's not all Saturday held. The scholars' schedules were jam-packed with virtual programming. In the morning, ENF staff and the Top 20 came together for a pet parade, showing off their pets—or plants. The scholars completed a scavenger hunt; had their portraits drawn; zoomed through a speed-friending session with one another and past Top 20 scholars from every prior Leadership Weekend except 2018; tested their knowledge with Elks trivia; and ended a fun-filled morning with a restorative yoga session led by the Elks Scholar Welkness Club.
Before the weekend ended, they tested their funny bones with a leadership-focused improv class hosted by the renowned comedy club The Second City. The scholars came together one last time to share their favorite moments of the virtual programming and what would stick with them the most.
"I think the thing that's going to stick with me is it's been an incredible experience to see so many like-minded people from such interesting and diverse backgrounds," said Caleb Matthews, sponsored by Corvallis, Ore., Lodge No. 1413. "Everyone here is so different and has such an interesting, different, important story. Understanding that breadth of humanity is something I'm really going to take with me."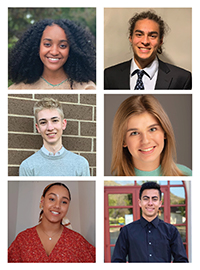 We're pleased to announce the 2021 Top Winners.
In third place, Pedro Calderon, sponsored by Oxnard, Calif., Lodge No. 1443, and Zoe Yates, sponsored by Lynnwood, Wash., Lodge No. 2171, each will receive $30,000 toward their college education. In second place, Cobin Szymanski, sponsored by Hutchinson, Minn., Lodge No. 2427, and Molly McCommons, sponsored by New Castle, Pa., Lodge No. 69, each will receive $40,000. And in first place, the recipients of $50,000 scholarships are Jacob Lockman, sponsored by Mount Adams (White Salmon), Wash., Lodge No. 1868, and Gellila Asmamaw, sponsored Lancaster, Pa., Lodge No. 134.
Congratulations to all the MVS Finalists and the 2021 Top Winners!
For 2021-22, the Elks National Foundation allocated $2.9 million to fund the Most Valuable Student scholarship program, which includes 500 four-year scholarships ranging from $4,000 to $50,000. For more information about the Most Valuable Student scholarship program, including eligibility and deadlines, visit enf.elks.org/MVS.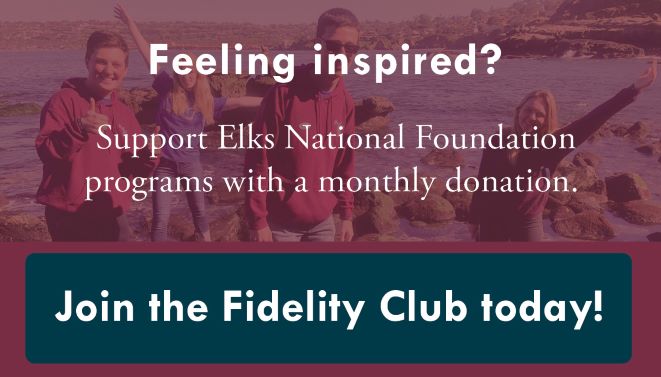 ---
Back to top