Lodges Utilize CIP Grants to Provide Pandemic Relief
One year ago, the pandemic began to unfold in our communities.
Elks are known in their communities for many things, but above all else, they are known for their service and volunteerism. They use their time to build stronger communities, often with the help of ENF Community Investments Program grants.
But the pandemic changed that. Elks couldn't gather to meet the increasingly pressing need in their neighborhoods. So, the CIP adapted to help Elks rise to the occasion.
Staring on April 1, 2020, with the Gratitude Grant, the ENF progressively rolled out Community Investments Program grants with more flexible guidelines. Those grants helped us rally around our communities and provide immediate and impactful relief to those who needed it most.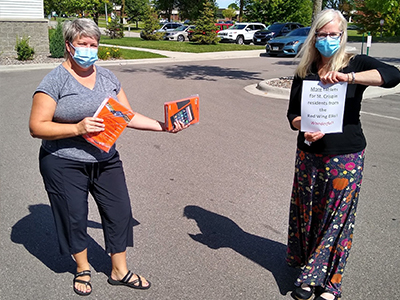 Though the ENF encourages Lodges to use their grants for active, community-based projects, that approach was flipped on its head in light of the pandemic. To keep volunteers and program participants safe, the ENF encouraged Lodges to donate their Gratitude Grants to organizations providing pandemic relief.
Red Wing, Minnesota, Lodge No. 845 began sending cards and pictures drawn by local kids, as well as fabric masks, to senior living homes to combat the isolation that came with social distancing. The Red Wing Elks discovered a new way to fight loneliness: technology.
The Red Wing Lodge purchased tablets with its Gratitude Grant to help bring loved ones together virtually, and they donated the tablets to six senior living homes in their community.
Like the Red Wing Lodge, Lawrence, Massachusetts, Lodge No. 65 noticed a pressing need in their community. The Lawrence Lodge partnered with The Psychological Center, which oversees three shelters, to help purchase much-needed supplies like paper goods, non-perishable food and cleaning supplies with its Gratitude Grant.
Gratitude Grants weren't the only grants to see a change. Spotlight Grants and Beacon Grants also saw increased flexibility too allow for passive rather than active projects.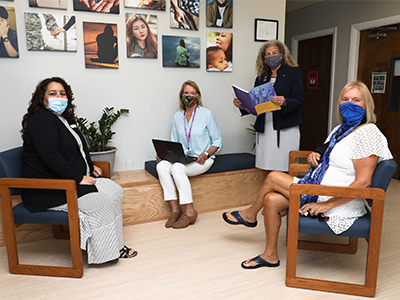 Decatur, Alabama, Lodge No. 655 joined the fight against COVID and used its Beacon Grant to purchase equipment needed by the North Alabama Department of Public Health to establish COVID testing—and later, vaccination—sites.
Newport, Rhode Island, Lodge No. 104 merged its Beacon and Spotlight Grants to fund four virtual sessions of a Mental Health First Aid for adults working with youth, like teachers, coaches and healthcare professionals.
"Mental Health First Aid helps participants assist someone experiencing a mental health or substance use-related crisis," says Nicki Trilling, Grants Coordinator for the Newport Lodge, "This is a critical need during the pandemic where youth are suffering with isolation, [which exacerbates] mental health issues."
The 2021-22 CIP grant year will open April 1, 2021, the ENF expects it will roll out similarly to the 2020-21 grant year.
---
Back to top