2018 MVS Scholar
Sponsored by Puyallup, WA No. 1450
University of Missouri-Kansas City School of Medicine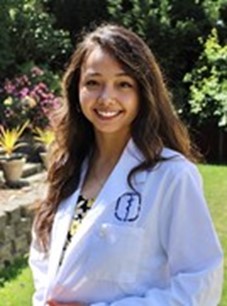 Victoria Cegielski became fascinated by the brain in high school. While shadowing doctors and nurses in her hometown of Seattle, she realized that because the nervous system controls every function of the human body, it was often the cause of patients' illness.
Victoria knows that understanding the brain is an immense challenge—but learning to understand it can improve people's lives. So, she decided to pursue a career in medicine with a focus on pediatric neurology.
"Everyone deserves a chance to better themselves," says Victoria, "and the brain determines a person's ability to do that."
At just 18 years old, Victoria applied to medical school. Specifically, she applied to the University of Missouri-Kansas City's accelerated B.A./M.D. program. Students in the program are automatically accepted into UMKC's medical school and receive both their bachelor's and medical degrees in six years instead of the standard eight.
After acquiring references, sitting for a chemistry assessment, and flying to Missouri for multiple interviews, she was one of 10 students from outside the Midwest accepted to the program. "I knew it was exactly what I needed to pursue my dreams," says Victoria.
The program's cost was daunting for Victoria and her family, though. As she shuffled through scholarship applications, it was her commitment to service that led her to the Elks. "The ENF was one of the few foundations that I really resonated with," says Victoria. "Medical school heavily emphasizes volunteerism, and the Elks are defined by serving their communities. It was perfectly intertwined."
The Elks felt the same way. Victoria is a 2018 Most Valuable Student scholar sponsored by Puyallup, Wash., Lodge No. 1450, and in 2020, she was awarded a $26,000 Gunther & Lee Weigel Medical School Scholarship.
Her penchant for volunteering has continued since arriving in Kansas City. One of the most impactful experiences for Victoria has been serving with an organization called "Lead to Read KC." As a reading mentor, she meets with an elementary school student each week to sound out words and review phonetic flashcards.
"Lead to Read KC isn't a medically-related organization, but it taught me a lot about myself and affirmed why I chose to move halfway across the nation to participate in the medical program at UMKC," Victoria says. "Everyone comes from different backgrounds. For some, learning to read the word 'green' may be more difficult; for others, learning to live a normal life under the influence of autism may be harder."
Understanding the root causes of those difficulties continues to drive Victoria. And in true Elks scholar fashion, the more she continues to learn, the more eager she becomes to pour her knowledge back into her community.
After losing her husband, Gunther, to a staph infection in November 2009, the late Lee Weigel wanted to improve the quality of healthcare in our country. To realize that goal, she partnered with the Elks National Foundation to endow the Gunther and Lee Weigel Medical School Scholarship, which helps Elks scholars pursue careers in medicine. For more information, visit enf.elks.org/WeigelMSS.