Championing the Order
The two newest members of the Elks National Foundation's staff are testaments to one of our biggest goals: that our program recipients become champions of the Order. Grace Roebuck and Jessica Carter, Elks scholars who are now part of the ENF Scholarship Office, are championing the goals of the Foundation—to build stronger communities.
When she was in high school, Roebuck heard of the Elks National Foundation for the first time when she stumbled upon the application for the MVS scholarship in her guidance counselor's office. She never expected to make it far, but months after submitting her application to South Kingstown, Rhode Island, Lodge No. 1899, she left a high school class trip in California to attend the 2016 MVS Leadership Weekend as a top 20 National Finalist.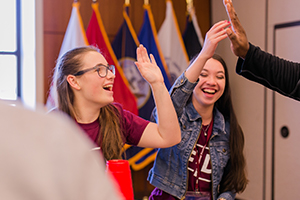 "I like to tell people it's been way more than a scholarship for me," Roebuck says. "The Elks has been a family; it's been a friendship; it's been a whole community of people. Now, beyond all the amazing friends I've made and beyond my education, it's brought me to Chicago to hopefully help other Elks scholars."
Roebuck studied psychology and studio art at Vassar College. She graduated in May amid the pandemic and immediately began job hunting. That job hunt ended with her in the role of the fourth ENF Elks Scholar Fellow, a fellowship position offered to Elks scholars to gain experience working for a nonprofit while overseeing the service trip program.
Roebuck is poised and ready to lead service trips when it's safe to do so—she's attended three Elks Scholar service trips, including 150 for 150 during the 2018 Elks National Convention in San Antonio. She stays in touch with the scholars she met in San Antonio, as well as those she connected with in Dallas and Chicago.
"I personally grew a ton from service trips and really made great friends and meaningful relationships, so I am ecstatic to help scholars make those connections and grow," Roebuck says. "Being able to connect with people through something as pure and as important as service is really what creates that glue that cements you for life."
Roebuck connected with the other new member of the ENF staff, Jessica Carter, at 150 for 150. Carter joined Team ENF in June as the Scholarship Office's Programs Coordinator.
Before Carter ever set foot in the Foundation's offices, she filled out her MVS application (back when the applications were paper) and brought it to Elgin, Illinois, Lodge No. 737—or so she thought. She walked into an empty building and handed her application to the sole person inside. The Elgin Lodge had just moved locations, and it was just her luck that while she was in the wrong place, it was the right time—the stranger she handed her application to happened to be an Elk.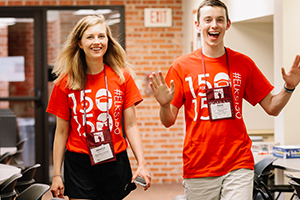 From that uncertain start, she made it all the way to the second Leadership. Before spending her $20,000 scholarship, Carter dove into the Elks scholar experience. She attended the inaugural Elks Scholar service trip to Manistique, Michigan that summer.
"Like the Leadership Weekend, you quickly grow so close to all the other scholars," Carter says. "You come together from different places across the country, and then you have this network of scholars after the trip."
Carter also joined the Scholar Advisory Board during her freshman year, and she went on to serve a four-year term. Much of what Carter facilitates today in her role in the scholarship department stems from the ideas of the SAB.
Before joining the ENF, Carter was slated to teach in Armenia as a member of the Peace Corps, but the pandemic forced the Peace Corps to suspend its volunteer programs indefinitely—which led her to the ENF.
"I wouldn't have been able to go to college without the MVS scholarship, and because of that, it was important to me to work with students after graduation," Carter says. "I'm excited to be able to do that through the ENF scholarship department."
Both Roebuck and Carter recently joined the ENF's YouTube show, the Midday Minute after starting their new roles. Watch Episode 37 to learn more about Roebuck, and catch Carter on Episode 35.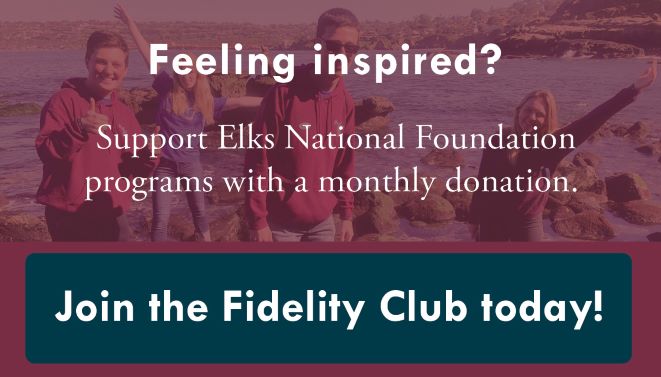 For 2020-21, the Elks National Foundation allocated $2.9 million to fund the Most Valuable Student scholarship program, which includes 500 four-year scholarships ranging from $4,000 to $50,000. The application deadline was November 5. The top 20 finalists, who will attend the 2021 Leadership Weekend, and MVS runners-up will be announced in March. Visit enf.elks.org/MVS for more information.
---
Back to top