Elks Lodges Provide Respite from Wildfires
Since the middle of August, wildfires have raged across the West Coast, affecting the lives of people throughout California, Oregon and Washington.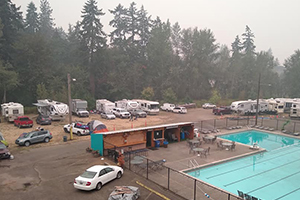 The parking lot at Milwaukie-Portland, Ore., Lodge No. 142 offers respite for evacuees.
"It's nasty here, to put it mildly," says Emma Pletz, the Secretary of the Oregon State Elks Association. "The smoke is awful. It looks dark at noon. We have about a quarter mile visibility all around us."
Pletz's Lodge, Milwaukie-Portland No. 142, has mobilized to help people affected by the fires. Thousands of Oregonians have evacuated their homes or were preparing to do so. The Lodge opened its parking lot and property for evacuees to park their RVs or set up campsites.
The Lodge rooms filled up quickly with necessities—clothing, diapers, food and produce, bedding and toys for children.
"People have had to flee their homes, some with only minutes notice," Pletz says. "Some got out with only the clothes on their backs."
The Lodge received so many donations, they had extra necessities to donate to other organizations, including a local food pantry, a women's shelter, and the Humane Society. On top of that, the Milwaukie-Portland Elks brought nearly 4,000 pounds of clothes and bedding to an area veterans organization.
The Milwaukie-Portland Lodge is working with Vancouver, Wash., Lodge No. 823. The Vancouver Lodge has also opened its parking lot for RVs and tents. When the Milwaukie-Portland Lodge fills up, they direct people to head to the Vancouver Lodge.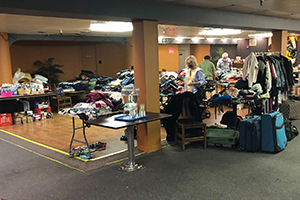 Ashland, Ore., Lodge No. 944 is filled with supplies for evacuees.
The Ashland area, in southern Oregon, has been hit hard by the fires, too. Two towns near Ashland, Ore., Lodge No. 944 have burned completely. The Ashland Lodge has become a hub for meals and donations. Opening its doors to the public, the Lodge provides evacuees respite from the smoke, a warm meal, and any necessities they need, from toiletries to toys.
"I just need for people to come in and know that they are welcome to take these things," says Colleen Hanson, an Ashland Lodge member who is coordinating the Lodge's disaster relief efforts. "Just come in and take what you need."
The Ashland Elks reached out to local hotels housing evacuees to offer resources for those in need. And, for those who left their homes without time to grab personal belongings and necessities, Lodge members are volunteering as "personal shoppers" to stock up on specific items.
Calpine, Calif., Lodge No. 2432 jumped into action and applied to use its Beacon Grant to donate to the Plumas Crisis Intervention and Resource Center, instead of hosting its annual Christmas party.
PCIRC maintains four resource centers in Plumas County, a mountainous, rural county where the Calpine Lodge is located.
"Besides COVID, the communities of Plumas County have been impacted by wildfires that are currently causing evacuations of small communities," says Ellen Vieira, Calpine's grants coordinator.
One month ago, one of PCIRC's largest resource centers burned down. The organization lost all its emergency baby supplies. The Calpine Lodge's donation will help replace those supplies and assist with emergency shelter for evacuees in motels.
"The fires are impacting local residents like never before," Vieira says. "This is the worst fire season in our history and funds to assist the local residents are greatly needed."
Lodges on the West Coast have proven that no matter the circumstance, the Elks will always step up and support their communities.
---
Back to top