A Good Legacy in the #ElksFamily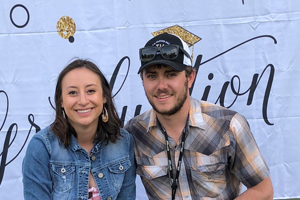 They say there's the family you're born into and the family you choose. For Wyatt Good, the Elks are both. A child and grandchild of Elks, Good grew from an Elks scholar into an Elk himself—and a proud donor to the Elks National Foundation.
The local Elks Lodge has been a constant in Good's life, beginning with his parents' and extended family's commitment to the Order. Good says he has "always…had fond memories of the Elks," with Good family dinners and good community events enjoyed at the Lodge as a kid.
His personal ties to Elkdom were strengthened when he became an Elks scholar in 2014. Good was a recipient of an Emergency Educational Grant, which provides undergraduate college financial assistance to children of deceased or totally disabled Elks.
While we wish no students ever qualified for one of these grants, the program is a special opportunity to serve Elks' families with educational financial aid.
Though Good lost his father at a young age, it is evident that he follows in his dad's legacy in ways that would make his father proud. And he remains thankful for the opportunities afforded to him with the help of the EEG.
"The grant funds made a huge impact on my life, as they [helped pay] for my schooling and placed less stress upon myself and my family," Good says. "I was able to graduate from college debt-free, which is a huge relief."
Another constant in Good's life has been a love of the great outdoors. His interest in agriculture and passion for the mountains and wildlife of his home state of Wyoming spurred Good's studies in Rangeland Ecology and Watershed Management at the University of Wyoming.
"It just seemed a natural path to take," says Good.
Currently, Good uses his degree close to home through his work as a Forest Service employee. Good's education has led him to do good work in his community in many ways. Now out of school and beginning his career, he is a proud member of Greybull, Wyo., Lodge No. 1431—his family's Lodge and the very one that sponsored him as a student applying for an EEG.
"I have always had the desire to be an Elk, and when I graduated from college, that was one of the first things that I did," Good says.
"Being an Elk means a lot to me, as most of my friends and family are currently members," Good shares. "Our local Lodge [will always] have fond memories for me, as well as a sense of pride for all of the great things that the Elks does for people."
Like many Elks, he elected to make his first donation to the ENF when paying his Lodge membership dues.
"I chose to donate to the ENF in order to pay back a bit and do my part in helping the Elks achieve any goals they may have," explains Good. He views his support of the Foundation "as a way…to hopefully give someone such as myself the opportunities that I was fortunate enough to receive."
The Good story from Wyoming is just one example of many good stories of lives positively impacted by the Elks and ENF's commitment to build stronger communities. Wyatt Good is an example of how the ENF's investment in places where Elks live and work truly benefits Lodges—and the Order.
"I would just like to say thank you once again for the opportunities that the Elks have given me so far in life," says Good, "and I encourage all [who] are interested in the Elks to join and give back to the community and the nation."
For 2020-21, the Elks National Foundation allocated $158,440 to fund the Emergency Educational Grant program for children of deceased or totally disabled Elks. If you know any Elks children who may be eligible to receive an Emergency Educational Grant, encourage them to visit enf.elks.org/eeg for information, including eligibility and deadlines.
---
Back to top