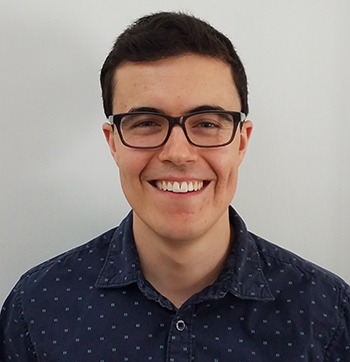 In 2010, Ryan Elliott received a Most Valuable Student scholarship from the Elks National Foundation. After winning the scholarship, he spoke at an awards dinner held in his honor by his sponsoring Lodge: Atascadero, Calif., Lodge No. 2733. While there, he met Lodge members who he felt manifested the values of the Elks.
Not long after, he tried to find the words to express what receiving an MVS award meant to him.
"Being an Elks scholar means that I am supported by a generous community of Elks across the country who have invested in my education because they believe that I have the potential to make a significant impact in the world," Elliott wrote.
Ten years later, with degrees in Ecology and Evolutionary Biology from Princeton University, Elliott is wrapping up his first year of medical school at the UCLA David Geffen School of Medicine.
Elliott received a 2019 Gunther & Lee Weigel Medical School Scholarship to study pediatric medicine. He found inspiration for his chosen specialty close to home—a pediatrician practicing in his hometown inspired Elliott to take the path he's on today.
"I was impressed by the intergenerational relationships that he had built with his patients, and I saw firsthand how knowing their stories enhanced the care that he was able to provide them," Elliott says of his role model, who he shadowed. Elliott is eager to establish a medical practice that allows him to form relationships with his patients to provide holistic care. Through his volunteer and professional experiences, he came to appreciate how childhood and adolescent care can determine lifelong health and wellbeing.
"I want to treat people, not diseases," Elliott says. "I want to learn from their stories, even when it is difficult, uncomfortable or time-intensive."
But a career as a physician wasn't his plan from the start; Elliott originally intended to work in the public health field to address health disparities on a population level.
"As a first-generation student from a low-income background, inequality is personal," Elliott says. "I knew entering college that I wanted to follow my guiding passion for social justice."
His passion for service led him on a service trip to Uganda during his freshman year. There, his drive to improve health outcomes, especially in rural regions, ignited. He returned to Princeton and took on a minor in Global Health and Health Policy and founded a campus chapter of Tropical Clinics for Rural Health, a global health nonprofit, to mobilize students in support of increasing access to rural health care.
But while in Lesotho, a country in southern Africa, Elliott found the most meaningful experiences were patient-facing interactions, rather than the behind-the-scenes role he originally dreamed of. He traveled to Lesotho as a fellow with the Baylor International Pediatric AIDS Initiative. There, Elliott supported HIV-positive adolescents and young adults through psychological support programming while also shadowing multiple physicians.
"I came to appreciate how valuable on-the-ground patient experience is in informing public health and research initiatives," Elliott says. He watched doctors use their clinical experience to inform support programming, focus research on treatment barriers, and influence pediatric HIV treatment guidelines.
"This fellowship solidified my desire to pursue a career in medicine—to be a healer for underserved patients in need; to meaningfully engage with their life stories and understand the barriers they face; and to be empowered with clinical insights that can be brought to bear on improving population health outcomes," Elliott says.
Elliott's decade-old sentiments on being a member of the Elks family still hold true. Over the years, he carried the responsibility entrusted with him by the Elks all the way to Princeton, Africa, and California, where he now serves in the Episcopal Service Corps in Sacramento to provide supportive housing services for individuals at risk of or currently experiencing homelessness. He also volunteers at the Sacramento LGBT Center.
His life goal is to leverage the education and experiences he's had to make a difference and pay it forward. Service to others was a guiding personal priority when he received the MVS scholarship, and it continues to be a priority while he's in medical school.
"I remain inspired by the Elks' dedication to community service," Elliott says. "[I] know that I will continue to carry them with me into my career as a physician."
After losing her husband, Gunther, to a staph infection in November 2009, the late Lee Weigel wanted to improve the quality of healthcare in our country. To realize that goal, she partnered with the Elks National Foundation to endow the Gunther and Lee Weigel Medical School Scholarship, which helps Elks scholars pursue careers in medicine. For more information, visit enf.elks.org/WeigelMSS.